HOME OFFICE REALLUSIONS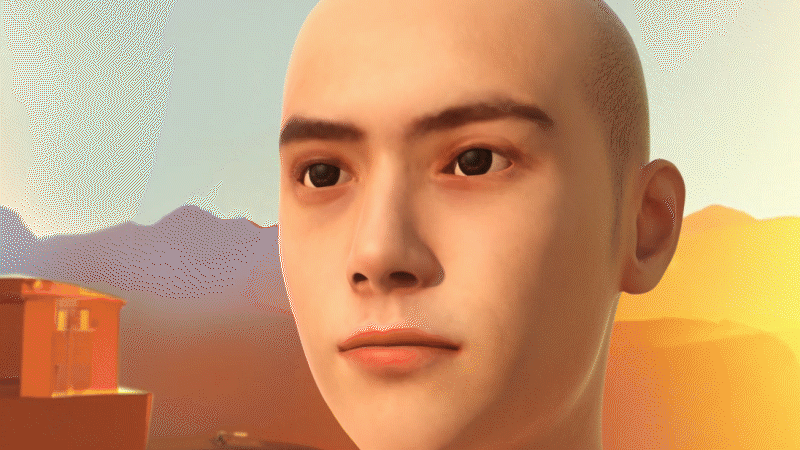 In this short video, photo reality is mixed with 3D, cartoonish elements derived from package materials, and AI generated footage, to illuminate the idea that we hardly seem to be able to agree upon in what realm reality exists.
It seems as though shop owners in China have their own way of tapping into the Silicon Valley work-leisure dream.
When are neural networks going to set us free?
Curated by Anouchka van Driel and Hu Wei, commissioned by the Dutch embassy in Beijing.
Based on photos of people watching TV in their shop made during a residency at CEAC.
Partners: Het Rijksmuseum; Van Gogh Museum; Stedelijk Museum; Het Nieuwe Instituut; Kunstinstuut Melly and Van Abbe Museum
2022, NL
ON THE ROAD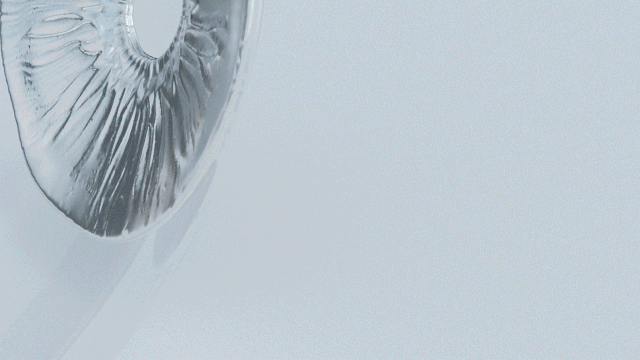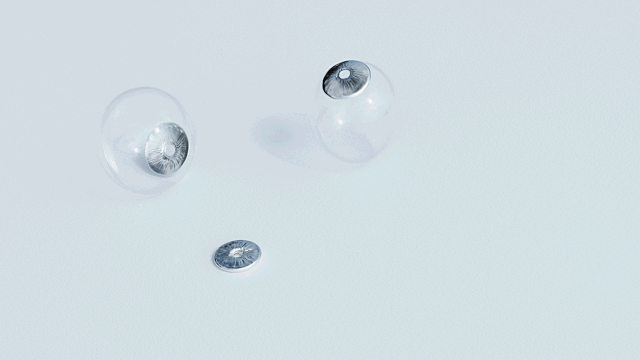 3D animation / render. Size of screen variable.
Origination as something that is fluid, based on experience, accidents and chance-encounters.
The eyes are 'drawing' the road / Shooting root on the fly (like ivy, creating roots wherever it goes). Revisiting Kerouac's 'road movie', where new media have largely taken over the role of traveling.
2022, NL
STRESS THERAPY WIFI FLOWERS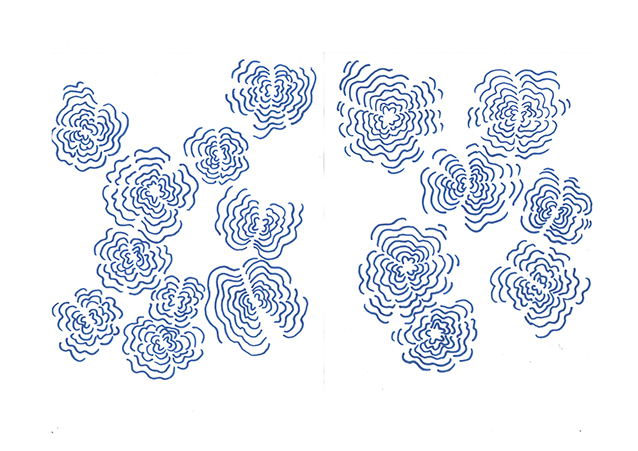 Ongoing series during the Covid pandemic Flowers emitting themselves (consisting of wifi signs), a more erratic mood-oriented way to 'On Kawara', Drawings on paper ca. A5 per piece
2020-22,NL
EXCESS FOR ALL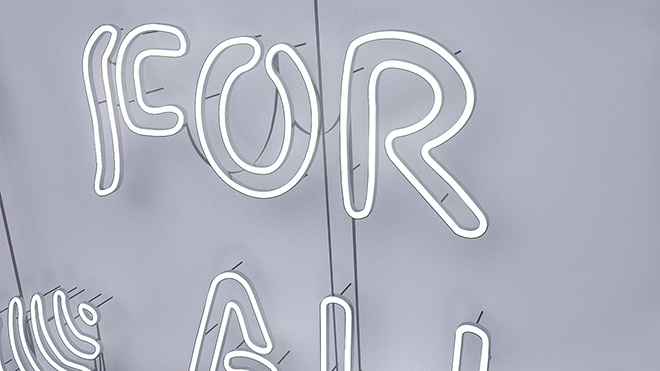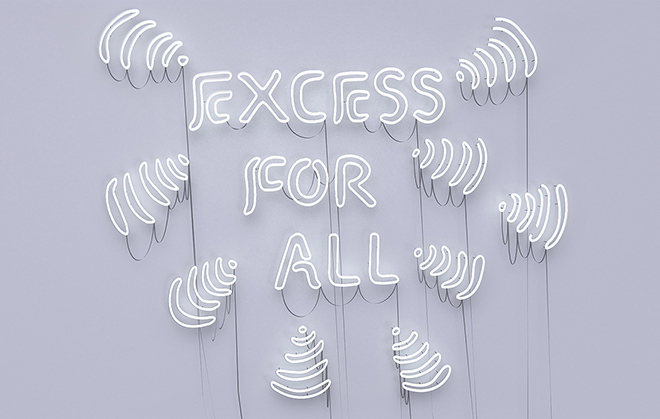 LED light sign with Wi-Fi pictograms / transmission symbols around the text, is a nod to the idea of internet access for all as our stronghold in troubling times, when it comes to keeping us connected and informed, since it gives way to an uninterrupted quantity of violence, corruption and falsehoods.
Neon LED strips in metal frame
2021,NL
THE QUICKSAND BENEATH THE TILES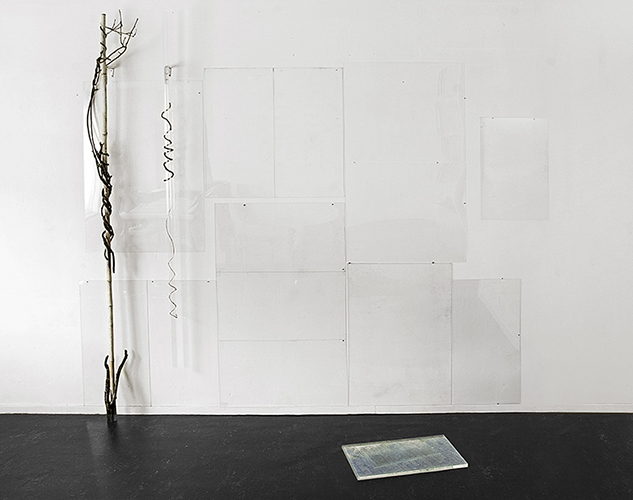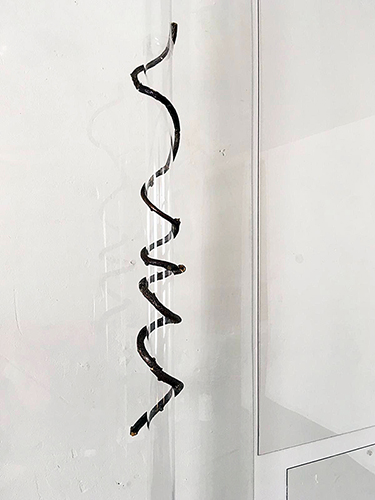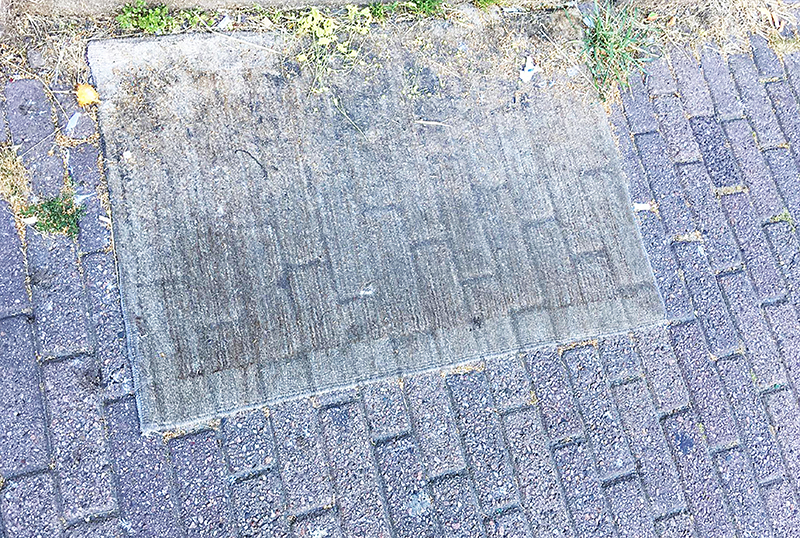 Installation with dissolving doormat and ivy

Plexi plates on the wall, half-transparent photo on duratrans, perennial plant branches
The title references 'The beach underneath the pavement', a slogan used by the uprising in May '68 in France and the Situationists International, shaking up the paved paths of capitalism, consumerism, American imperialism and contesting fascist tendencies
Replacing 'beach' for 'quicksand' suggests an even darker outlook and breakdown of 'primary structures'
NL, 2019

ANTENNA (AFTER BRANCUSI)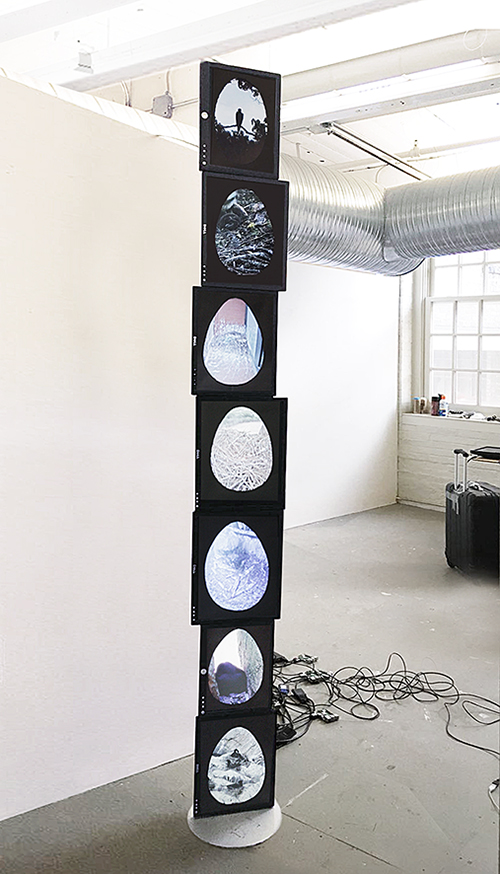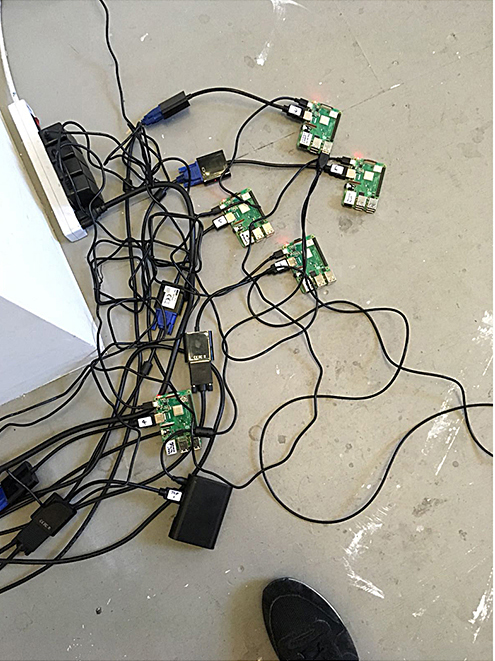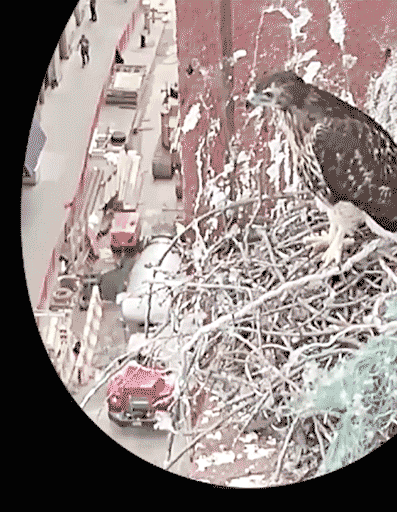 at the studios of MASS MoCA, 2018

Installation referencing Constantin Brancusi's 'essential eggs / endless columns / birds in space / newborns' tropes. It is a durational work, which streams live video of 7 unique American birds, including the nesting and brooding cycles of the Bald Eagle, Osprey, Hawk, Condor and Black Guillemot.

Overview and details of technology (raspberry pi devices) and a hawk observing pedestrians from a ledge.

Stack of Dell monitors, raspberry pis, convertors, egg masking. Livestream sources: Cornell Lab of Ornithology Bird Cams, The DC Arboretum Eagle Nest Cam Project, Audubon Society, NYU Hawk Cam, Carbon TV, Ventana Wildlife society.
Code by Christian Heilmann
USA, 2018
WHEN ONE UNIVERSE CLOSES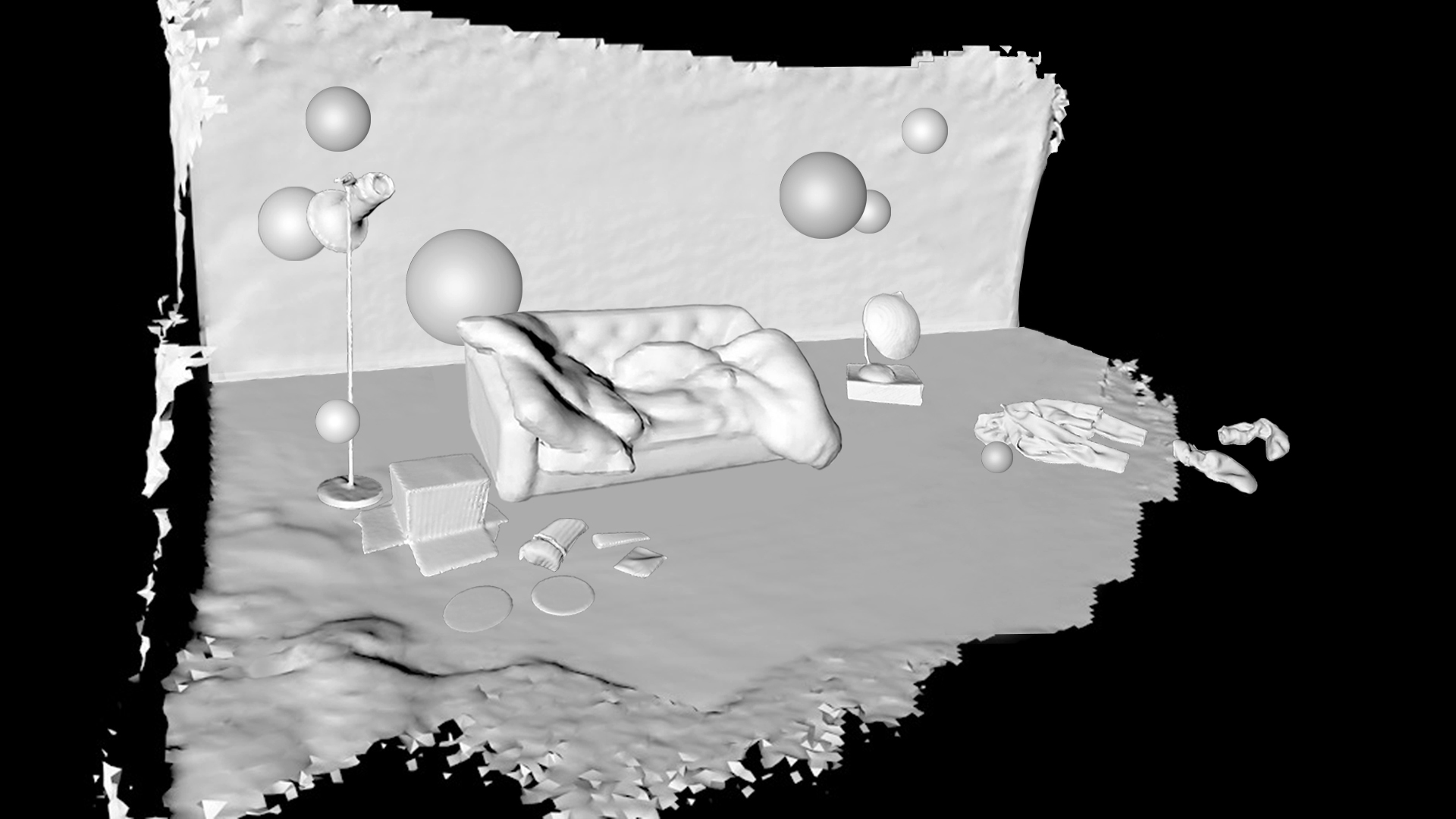 Whitney Biennale 2017
Assembled 3D scans

Assembled scans of my living room, making use of the limitation of unlicensed 3D scanning software: Interpreting the added 'sphere noise' as a planetary constellation.
You have to remove the spheres to distill the initial scan, so that you are encouraged to buy a license for the program, to avoid this process. However, constraints can offer new opportunities, and 'watermarking' - meant as copyright protection of software to safeguard revenue - can become an alternative certificate of authenticity.
Debtfair, Occupy Museums, Whitney Museum of American Art
2017, USA
COMING OF AGE (SINGLE BED TO KINGSIZE)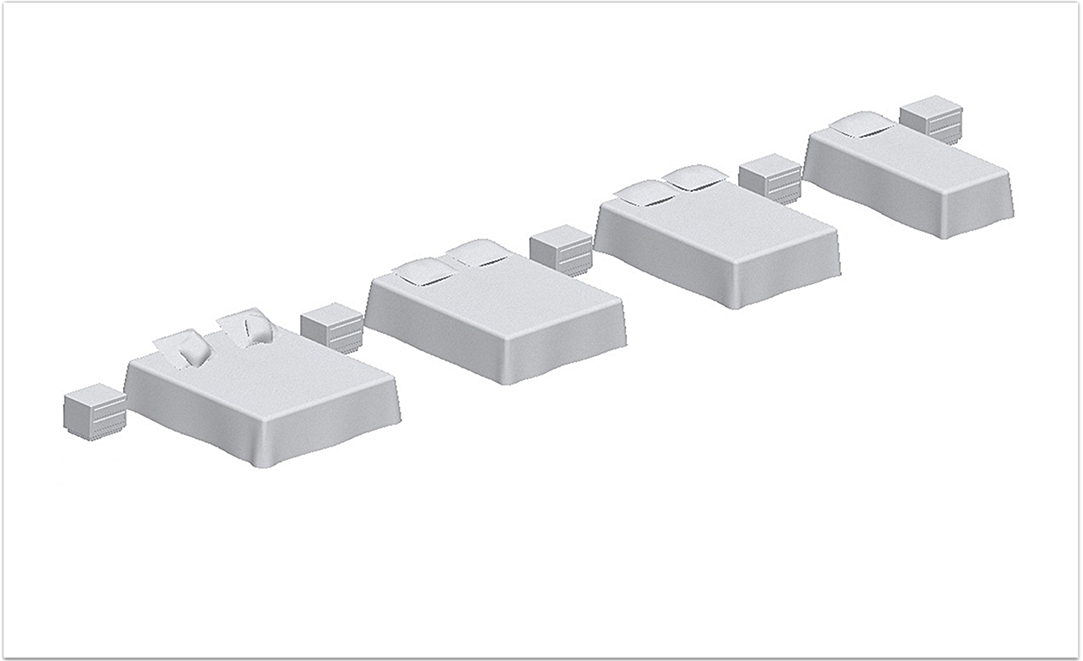 3D drawing, dimensions and manifestations variable

Consumer prospect timeline
2013, NL
ASYNCHRONOUS EVENT WITH CURIOUS MERCURY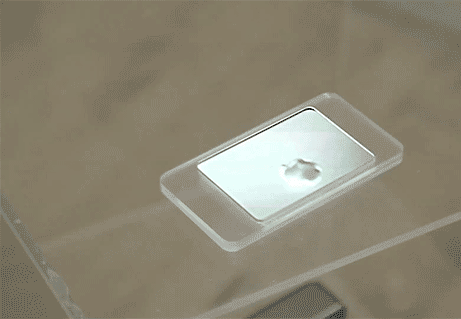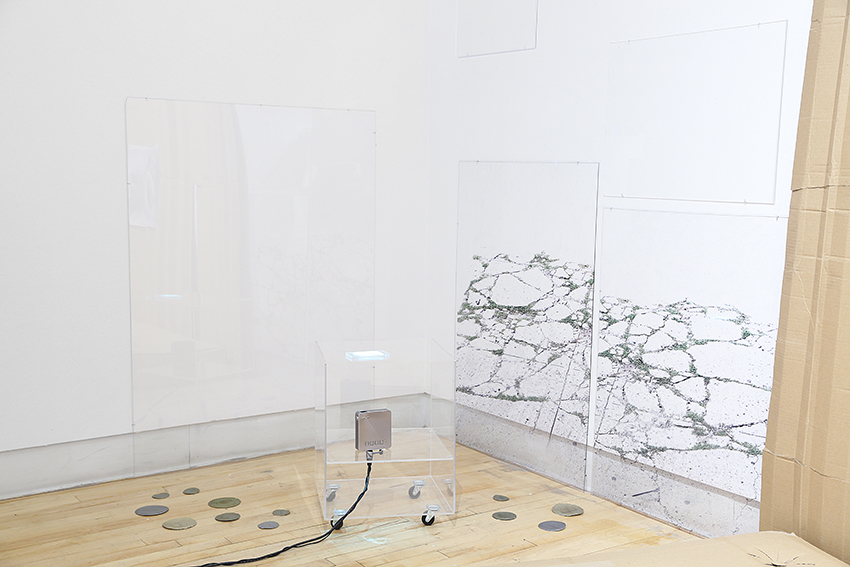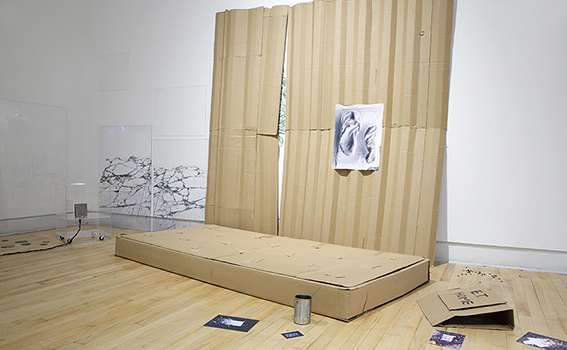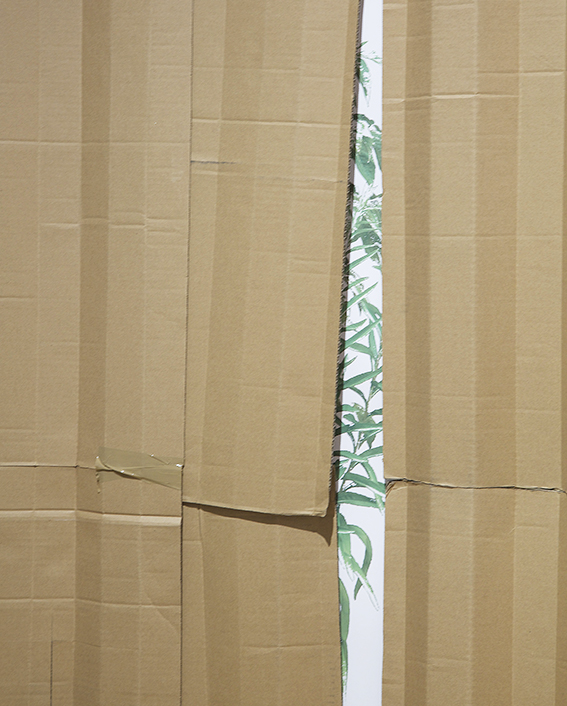 Installation at Flatiron Gallery, New York
School of Visual Arts, MFA Art Practice

In programming, asynchronous events are those occurring independently of the main program flow, in the background. The installation emphasizes the marginalized through entanglements of economic, digital, natural, personal, physical and virtual realities. Nothing can be read in singularity.
2016, New York
CORRUPTED DATA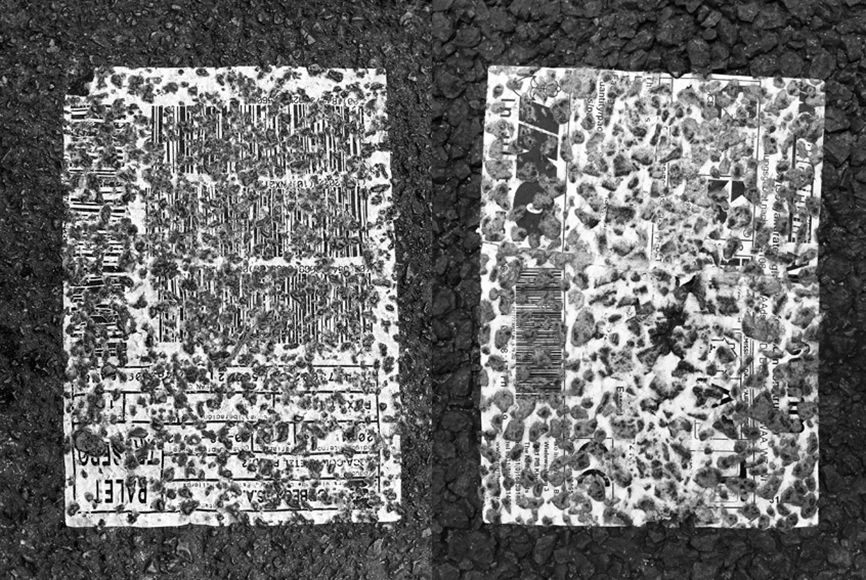 Digital photos of rundown barcodes on asphalt, A4

One photo taken during a residency at Crida, Palma de Mallorca, Spain
One years later in NL
2011-2015, ES
ANTICIPATORY PARCEL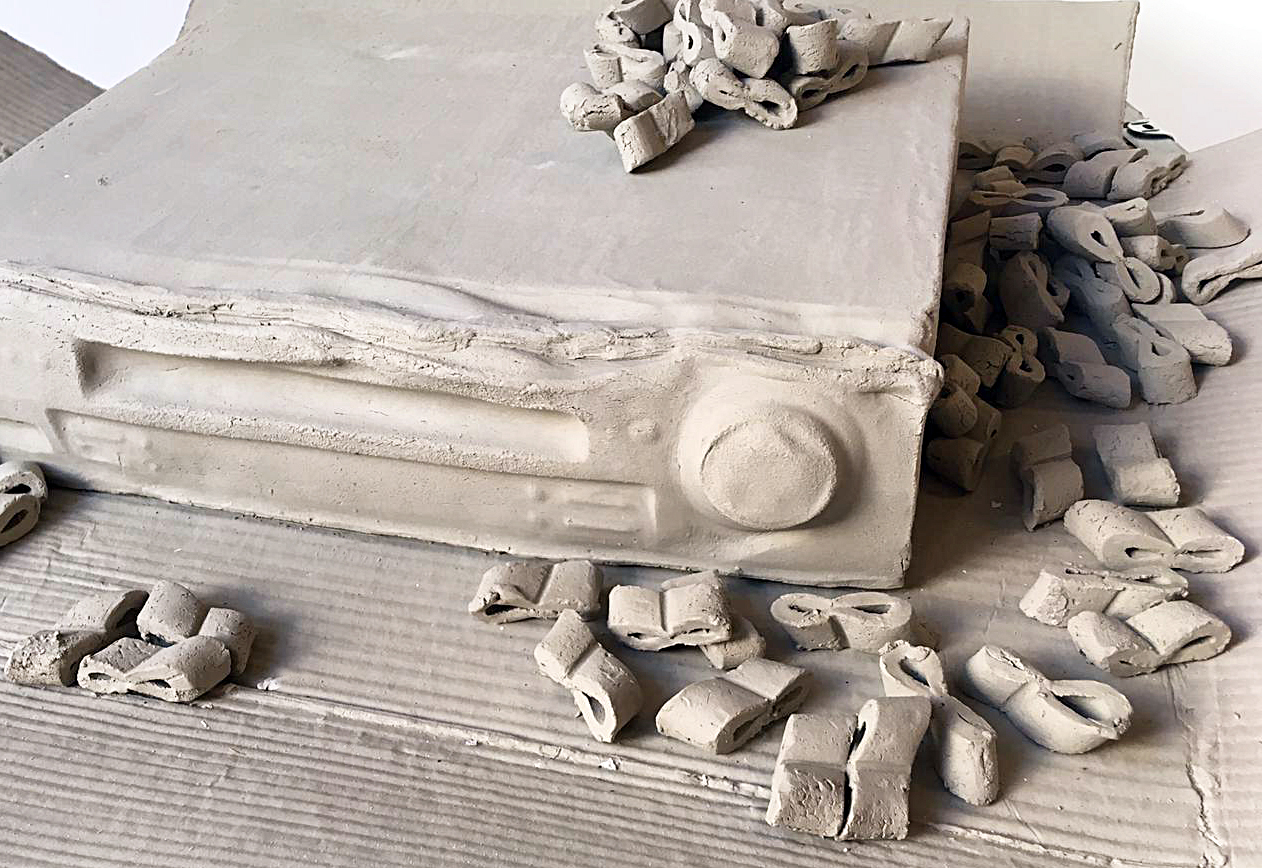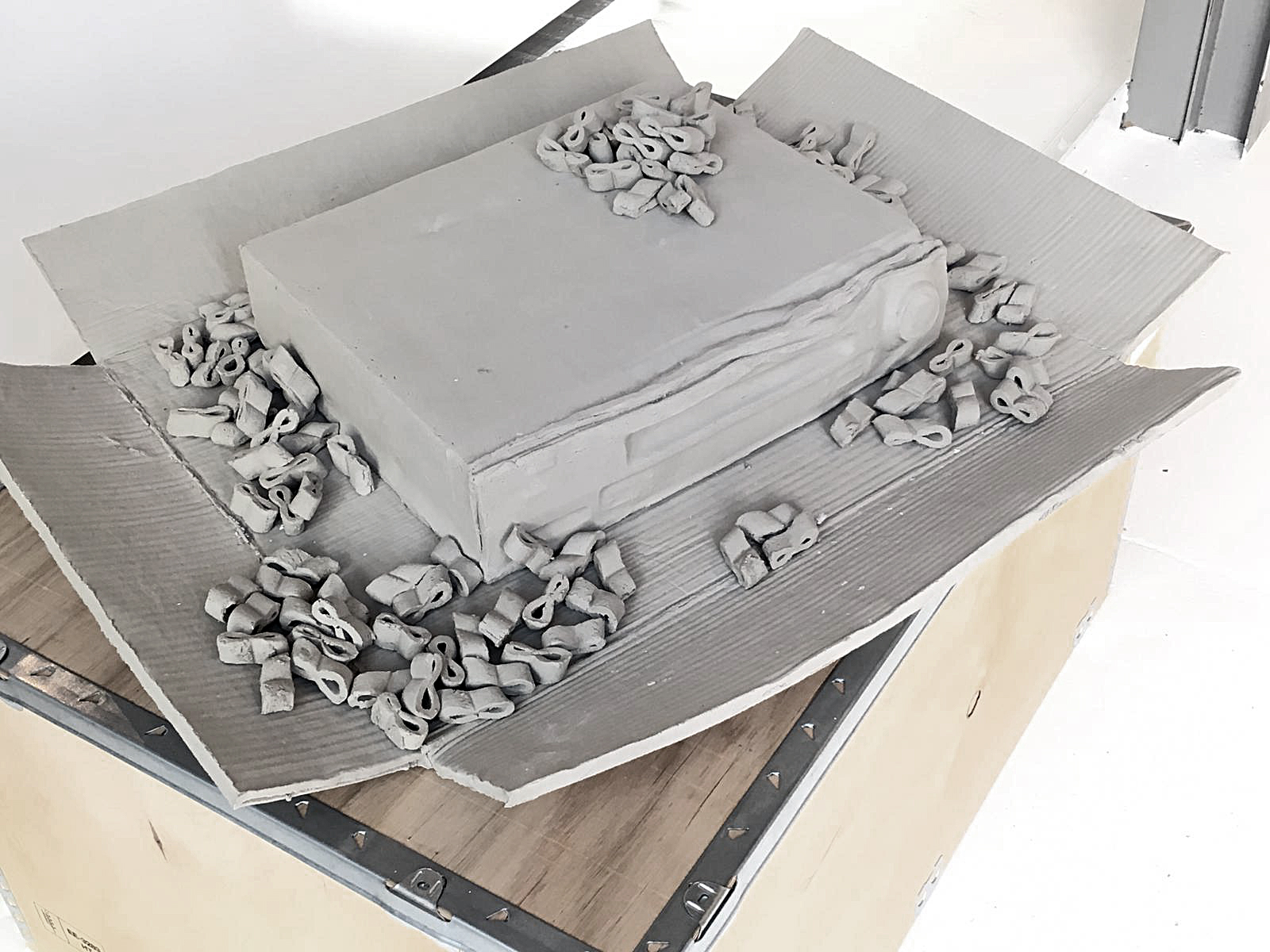 Ceramic: opened box, melting VCR and protective peanuts, ca 80cm x 68cm x 15cm, unique + AP

Title references 'anticipatory shipping' (algorithms forecasting your desires).
Featuring contemporary wrapping materials as artefacts.
'Point in Time' at Priveekollektie Contemporary Art & Design in Heusden, NL, 2019
sundaymorning @ ekwc (european ceramics work center), 2011,NL
SUNRISE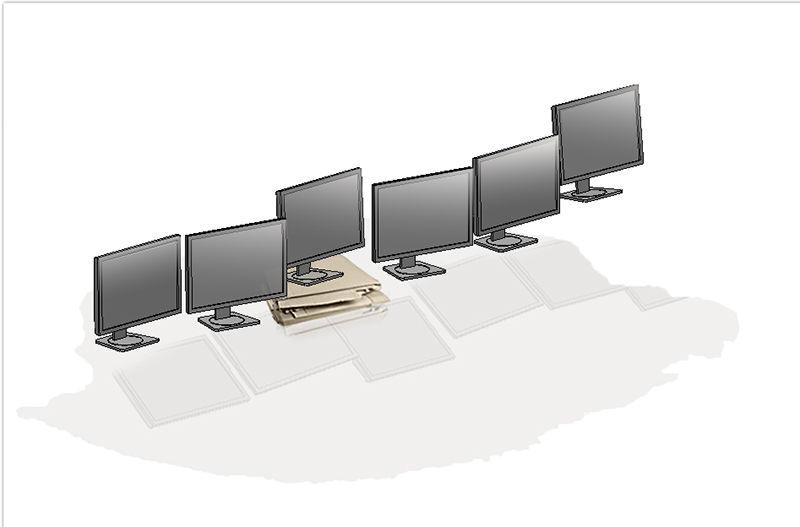 Digital collage (A4 - size variable)

Sunrise reflecting in monitors
2017, NL
BIRD IN A COLD CLIMATE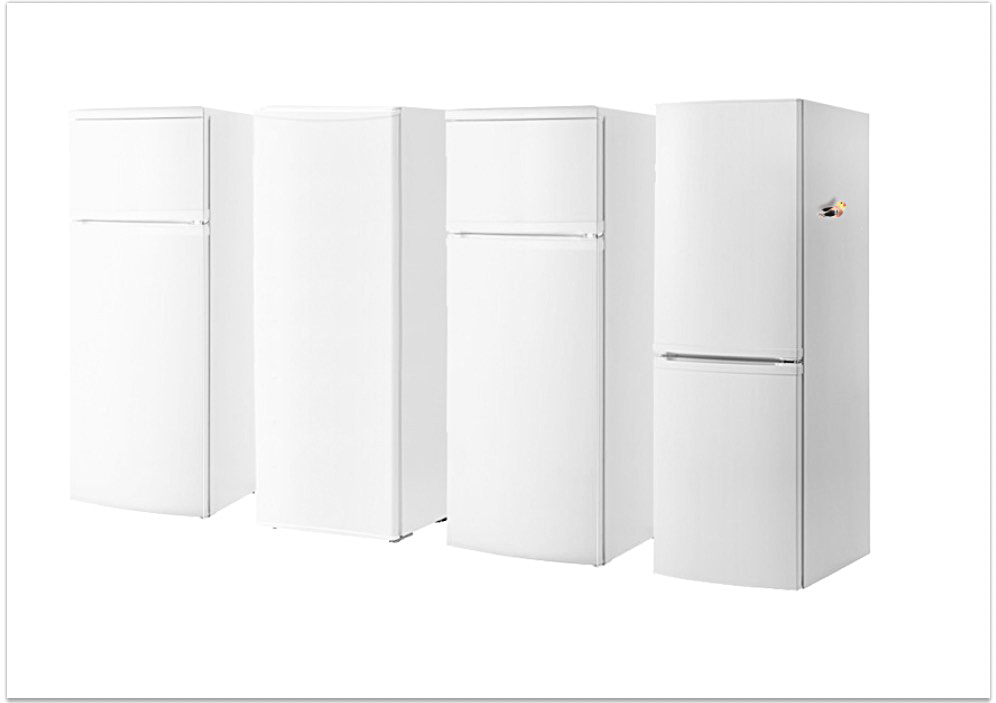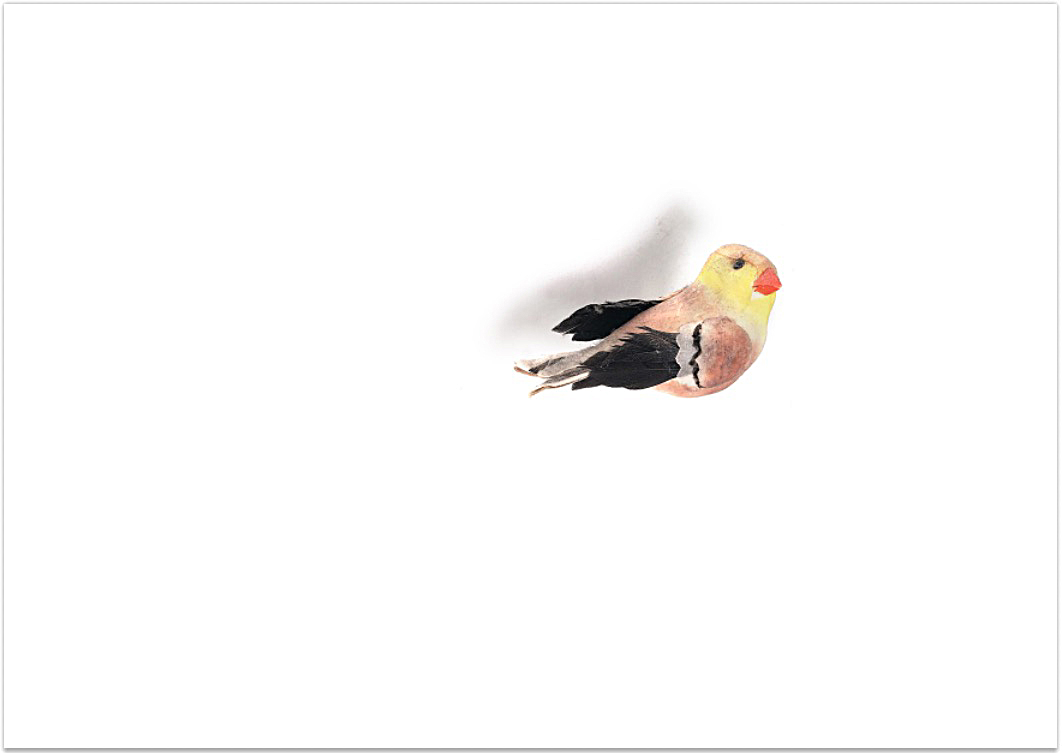 Photoprints, dimensions and manifestations variable
Private collection

Digital collage in 2 parts (A4 - size variable)

Row of fridges and bird magnet.
Referencing cold climates in general (societal / business), and excellent conditions for supercomputers and servers
2014, NL
RISE ABOVE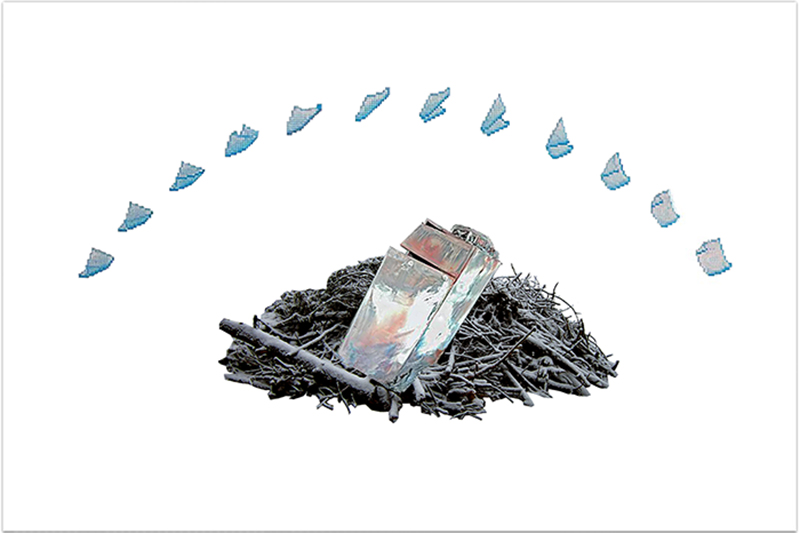 Digital collage (A4 - size variable)

Bird file flying over pile of rubbish
2014, NL
WATER BASINS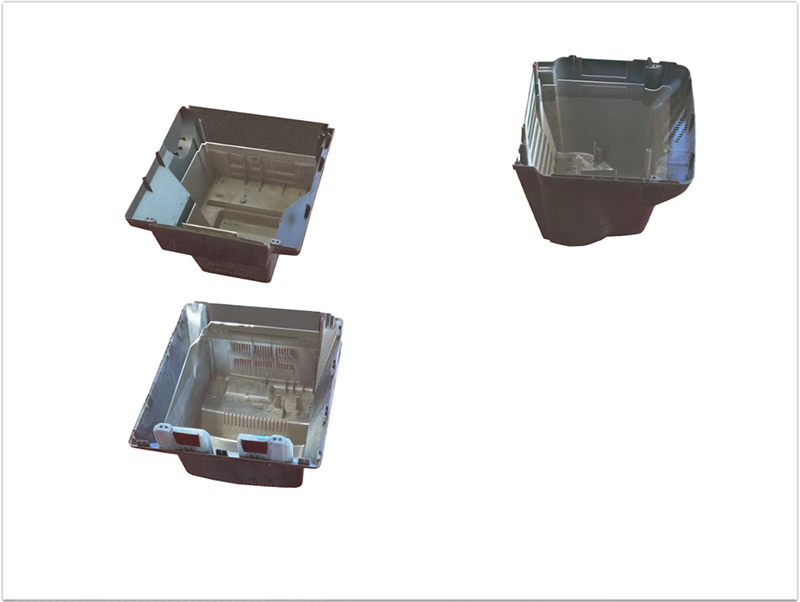 Digital collage (A4 - dimensions and manifestations variable)

Backside covers of TV's used to hold water
Published in 'In Case of Emergency', Riso printed book, Limited Edition, SVA, Miami Beach (in December), USA
2017, NL
COSMOGONIC FEEDBACK LOOP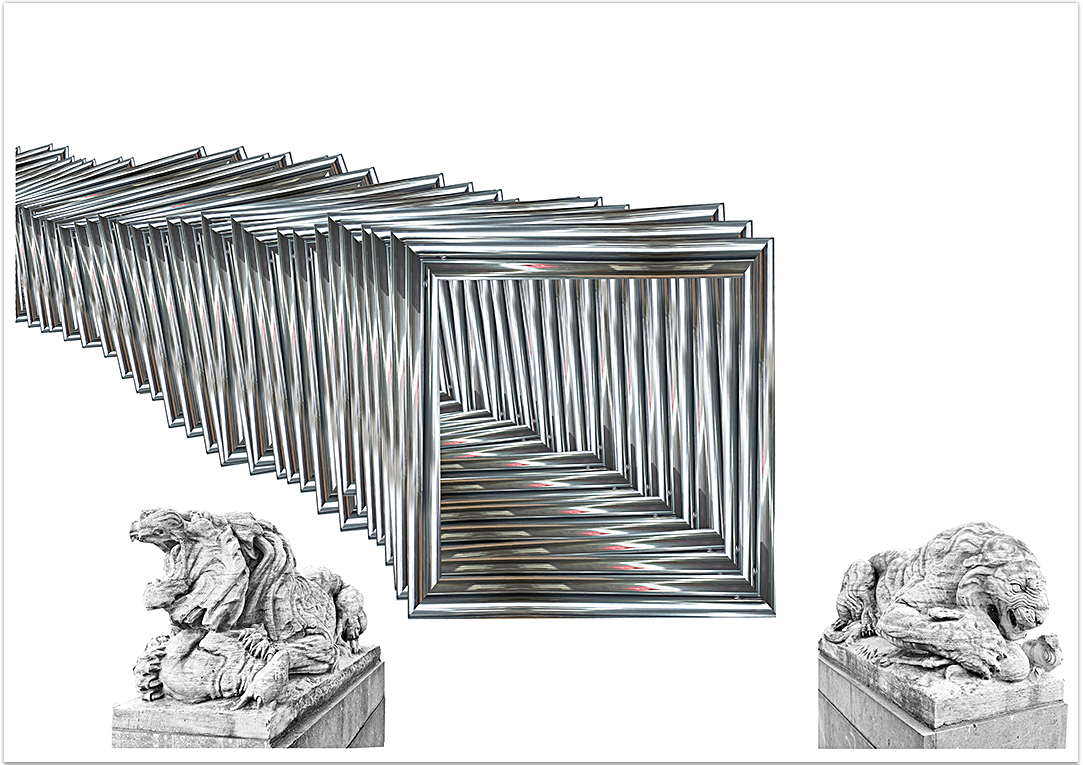 Photoprint / digital collage, dimensions variable

Life cycles / creation and destruction / anachronisms
Cosmic tunnel + lion and tiger eating prey sculptures, from the entrance of Artis, the zoo in Amsterdam.
2017, NL
DUST WORMS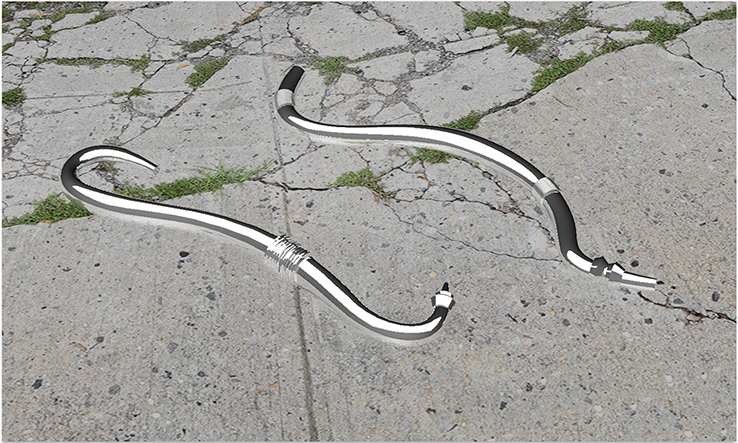 Visualization (size variable)

3D drawing / rendering of earth worms made out of vacuum cleaner parts.
Anthropocene-inspired reassessment of the Pop product.
NL, 2016
SUBLEVEL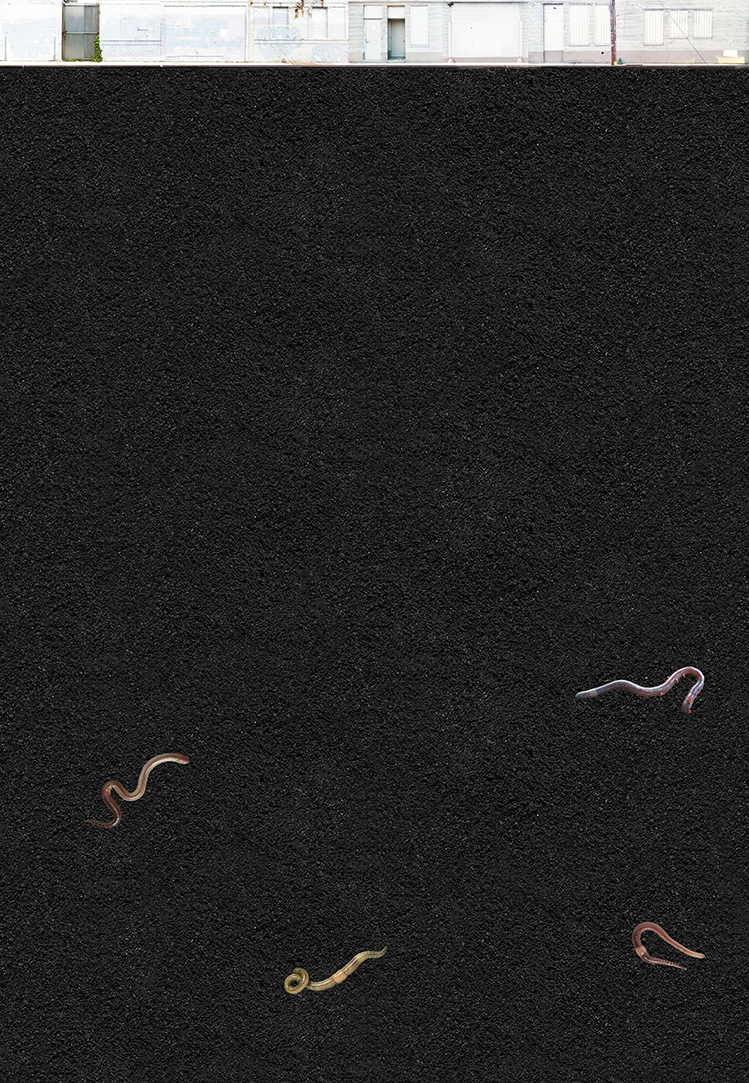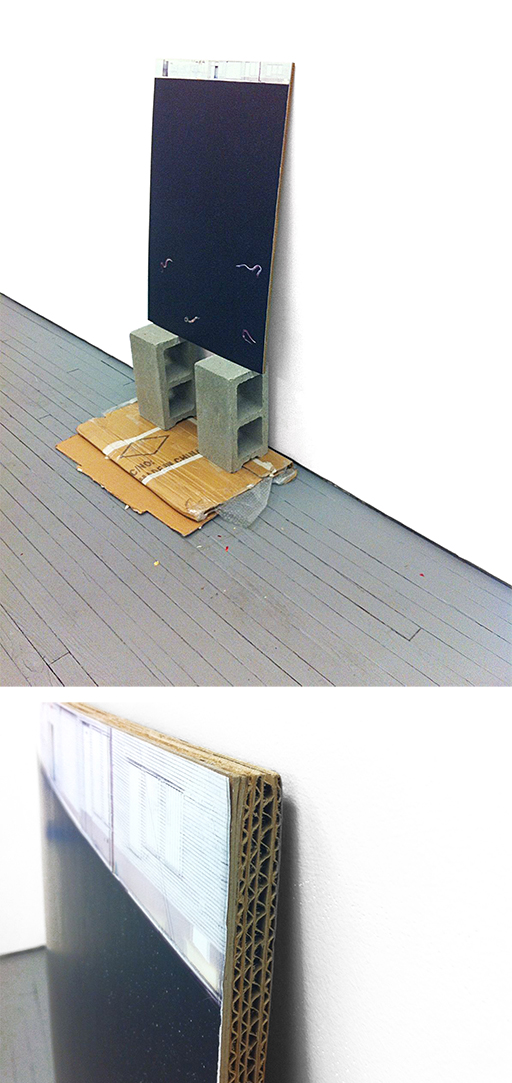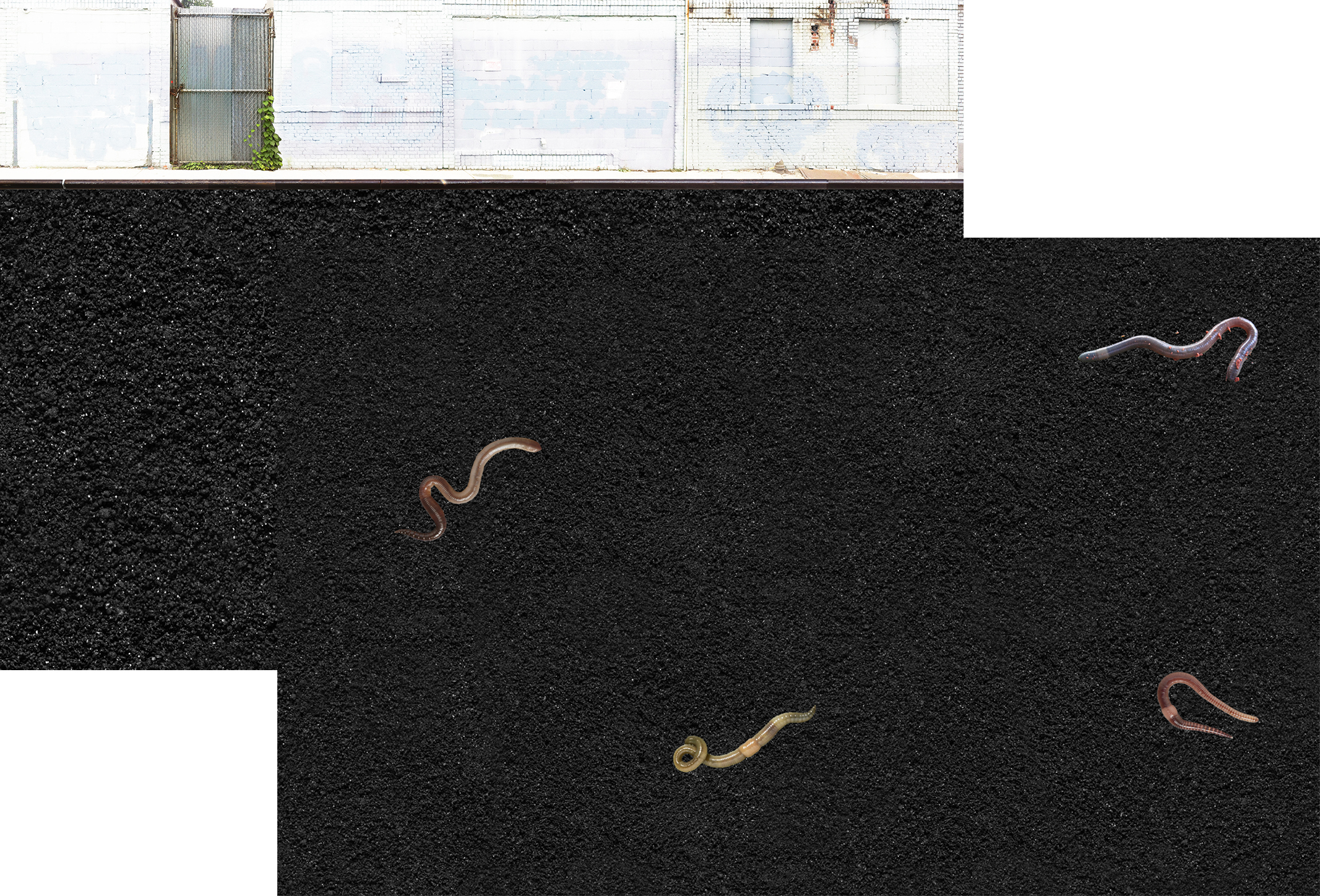 Installation at Present Company, New York
School of Visual Arts, MFA Art Practice

Digital photo collage adhered to chipboard and corrugated cardboard and propped upon cinderblocks. Print size about 102cmx70cm (40"x28").
Streetlevel and sublevel (clash of realities)
Microcosmos of British rainworms from CC Natural History Museum London & Guide to British Rainworms
2016, New York, USA
CHAPEL (AFTER ROTHKO)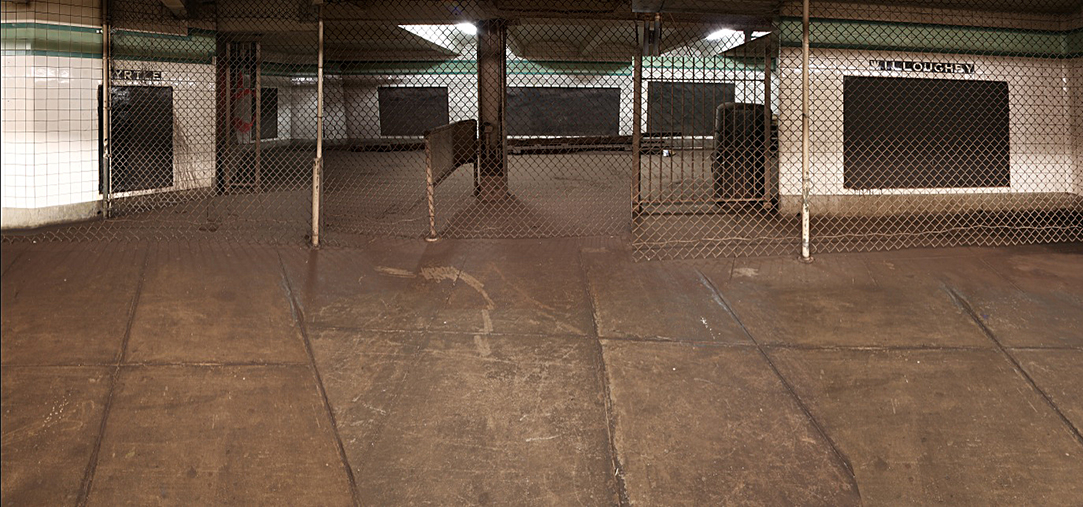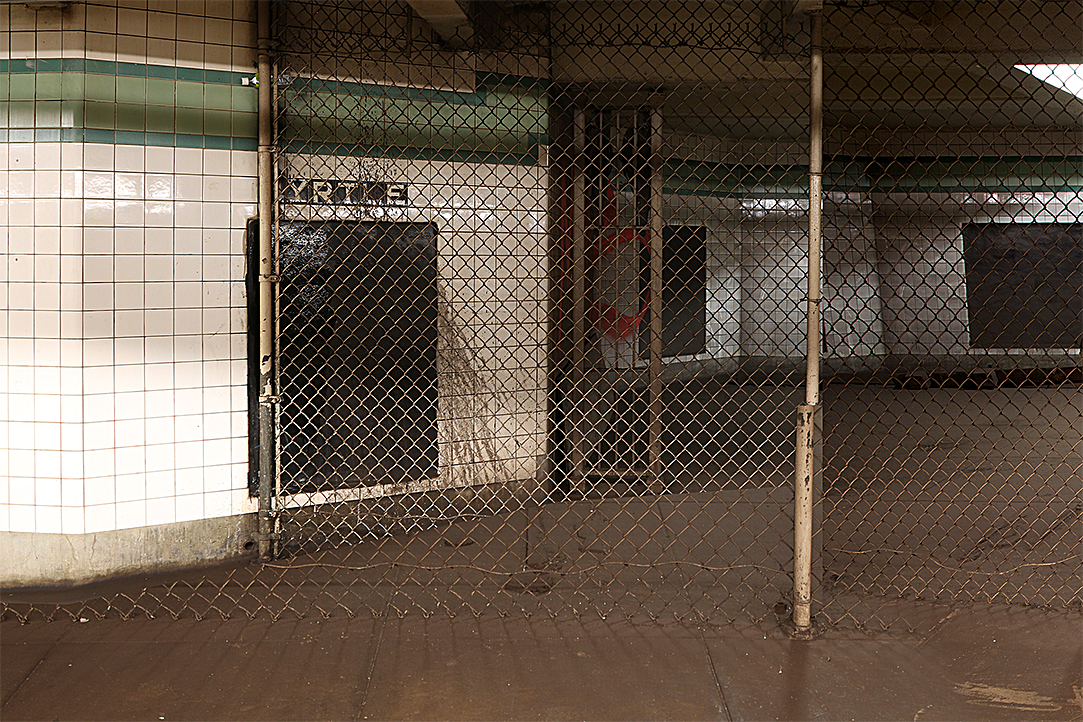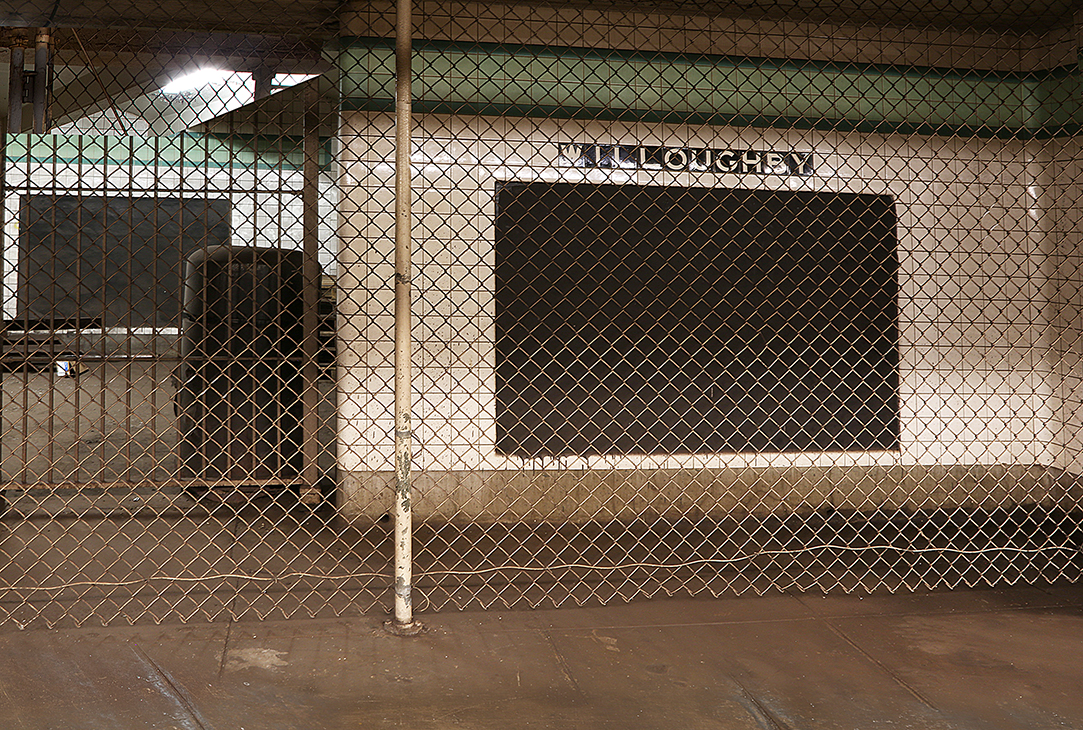 Assembled large scale digital photos of abandoned subway station in New York

Ad-block as a religious experience / transcendent stop
Size and manifestations variable
School of Visual Arts, MFA Art Practice
2016, USA
WHEREVER WE LEFT OFF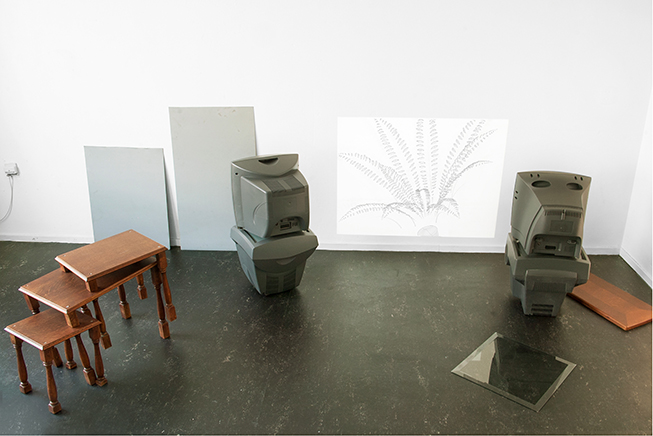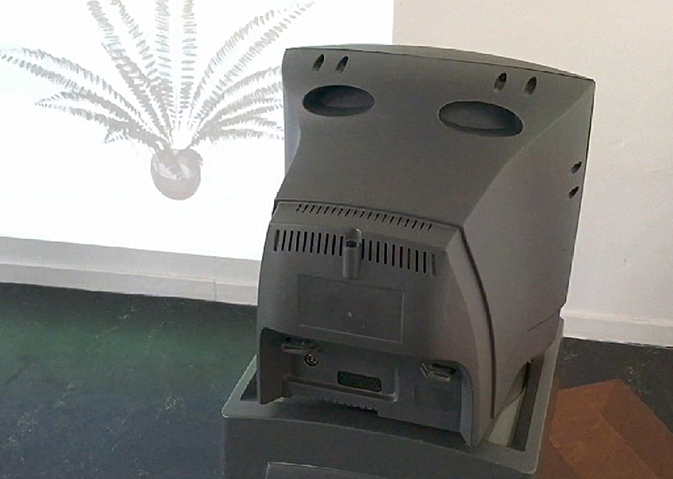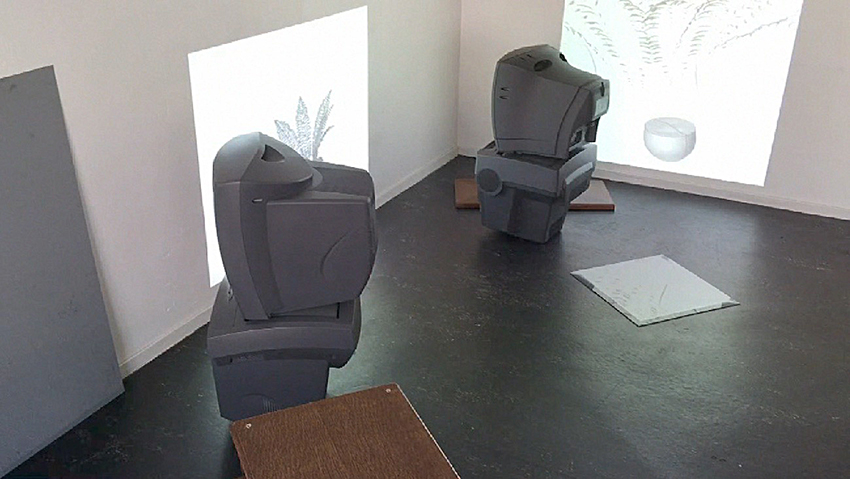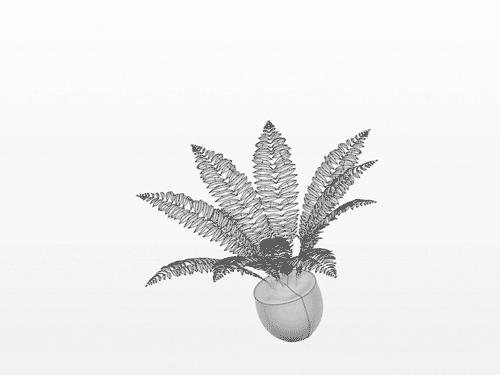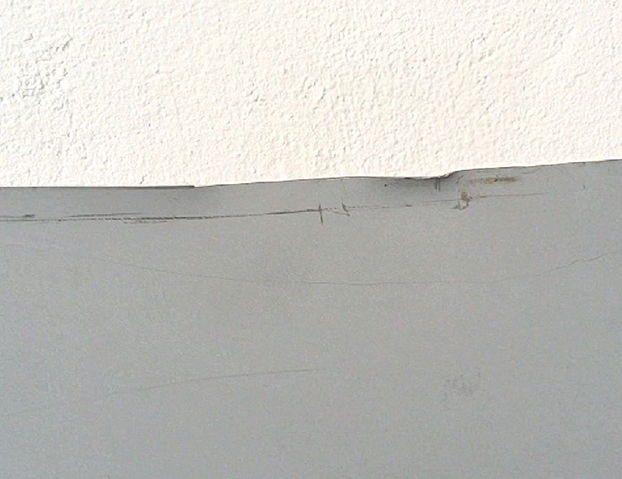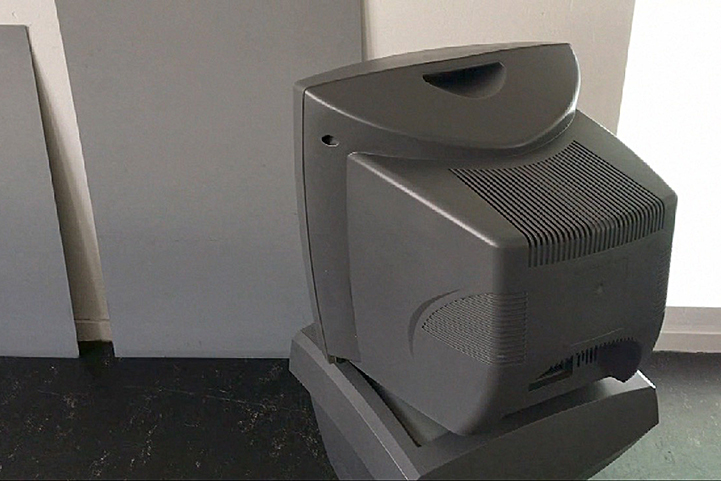 Installation

TV mask sculptures, entangled table set (behaving like unwilling 3D models, clumping together), facetted glass and inlaid wood panel (colonial style), projections of disintegrating and integrating ferns (3D animation - like an exploded view of a technical 3D model), metal welding plates with dirty finger stains.
Linking 'primitive' to tech and adding elements of the reality of production to the 'ready-made'.
2014, NL
ALWAYS COPY THE MIMICS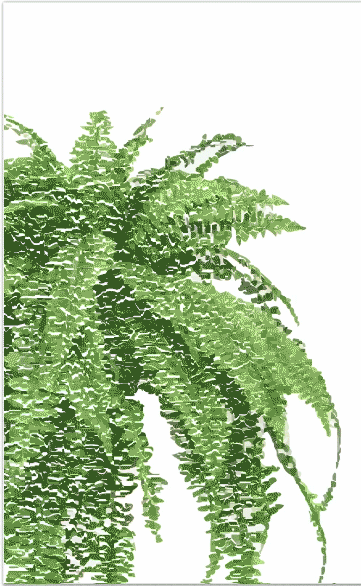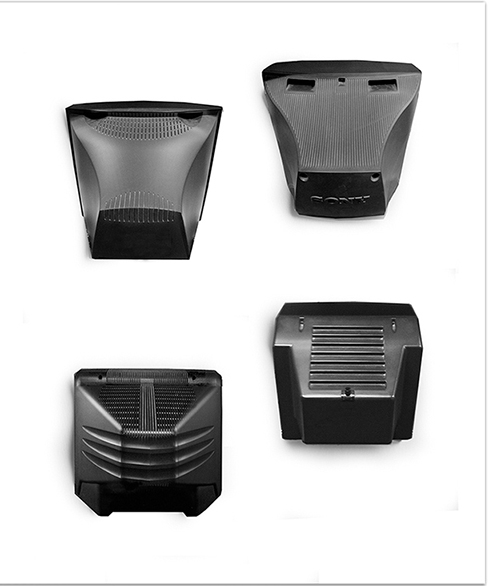 Video of small paper masks + disintegrating and reassembling fern (loop without sound)

Backsides of TV's staring back, resembling African masks
The title refers to the socio-psychological phenomenon in communication:of people talking while mirroring each other's poses, gestures and smiles as a sign of politeness, confirmation and understanding
London Calling 014, UK
2014, NL
BLACKHOLE WITH SHORT WAVES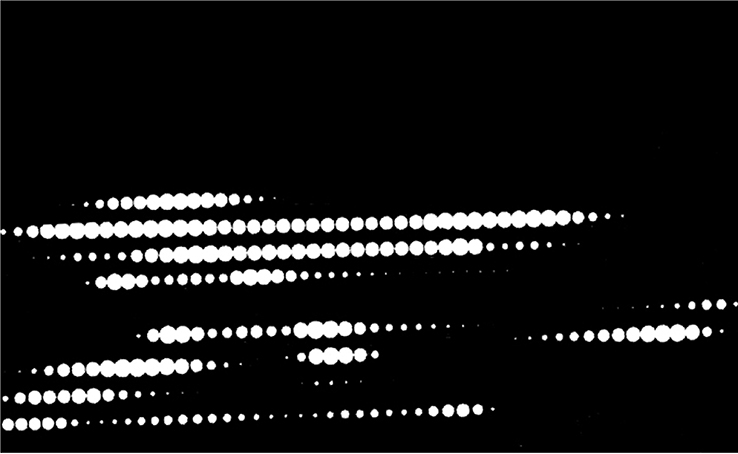 Photoprint, dimensions variable

Digital representation of sea by night.
Photoprint / mural - dimensions and manifestations variable
2009, NL
SUPERCOMPUTER - OVERTURNING THE UNCERTAINTY PRINCIPLE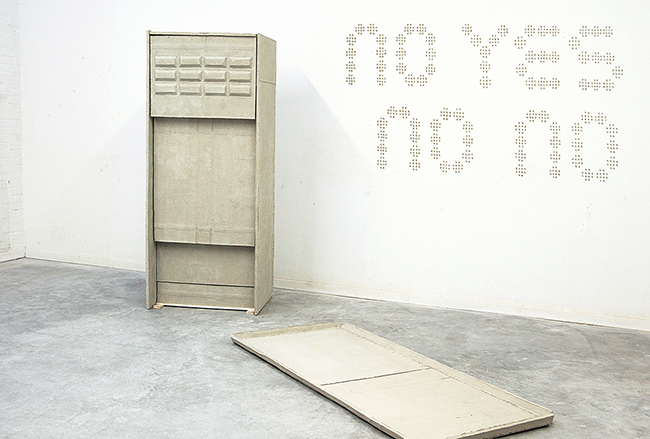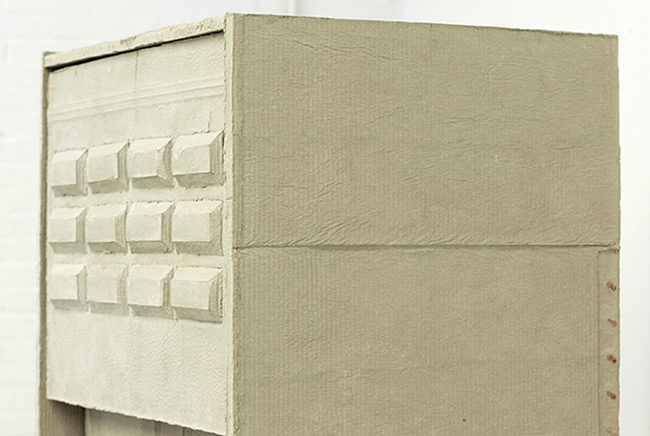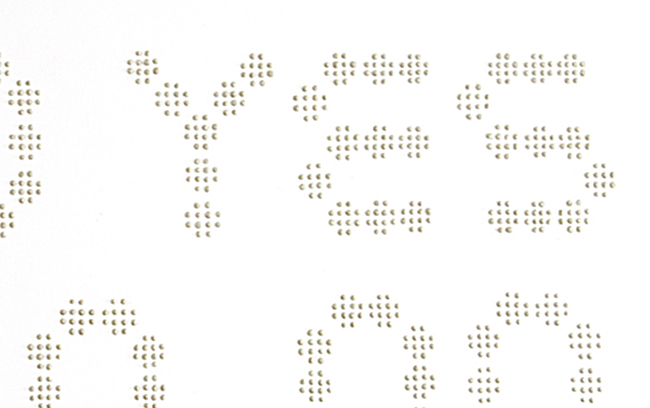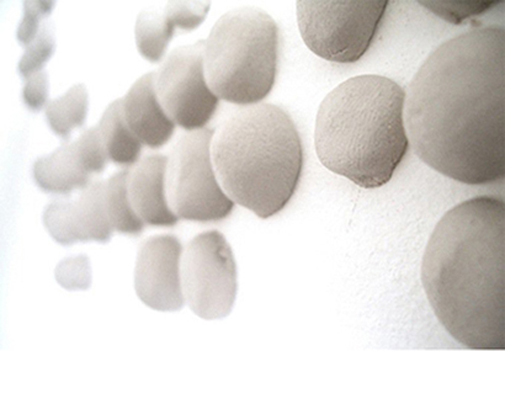 Installation at Sunday Morning @ EKWC (European Ceramic Work Center)

Supercomputer and cover about 185cm (6 feet 1). Ceramics, wood, wedges, packs of clay and archaic clay font

Device to deal with matter in space and time (ref. Heisenberg's uncertainty principle).
An artefact at the moment of its launch
NO YES, NO NO = Not affirmative, not negative. Turning binary language into a language of doubt.
2011, NL
THE AMERICAN ACADEMY IN ROME
STRANGELY GREAT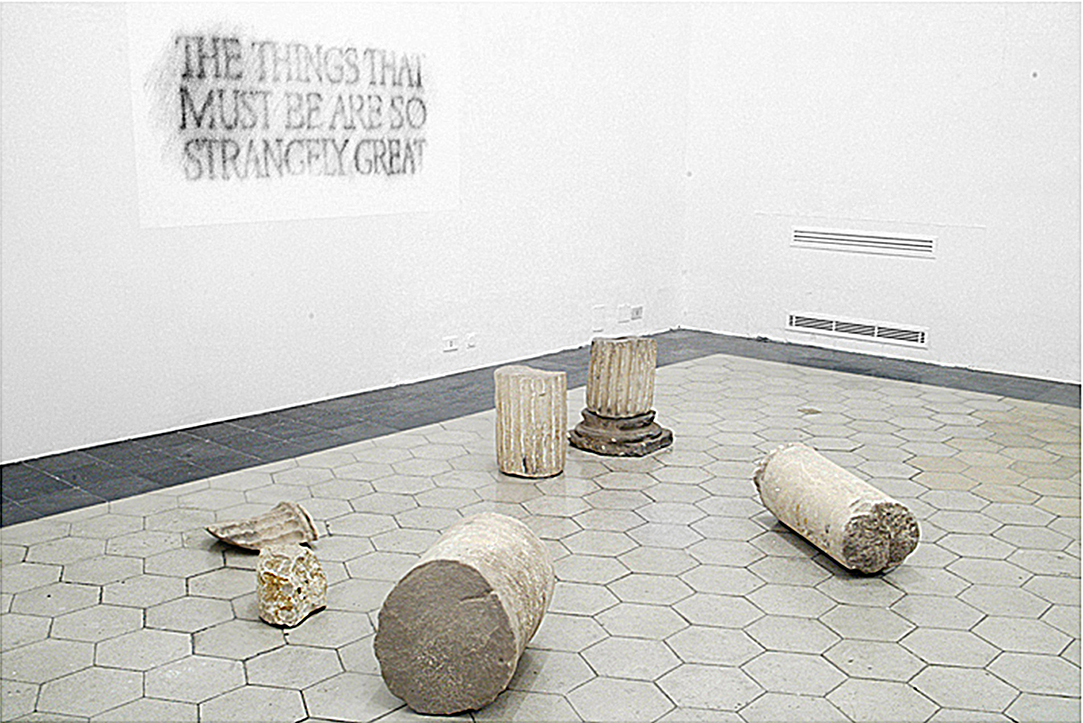 Installation at The Galleries of The American Academy in Rome

LAMBDA (photo) print of digital rub (200cm wide) and original Roman and Greek columns
2010, Rome, Italy
PYRAMID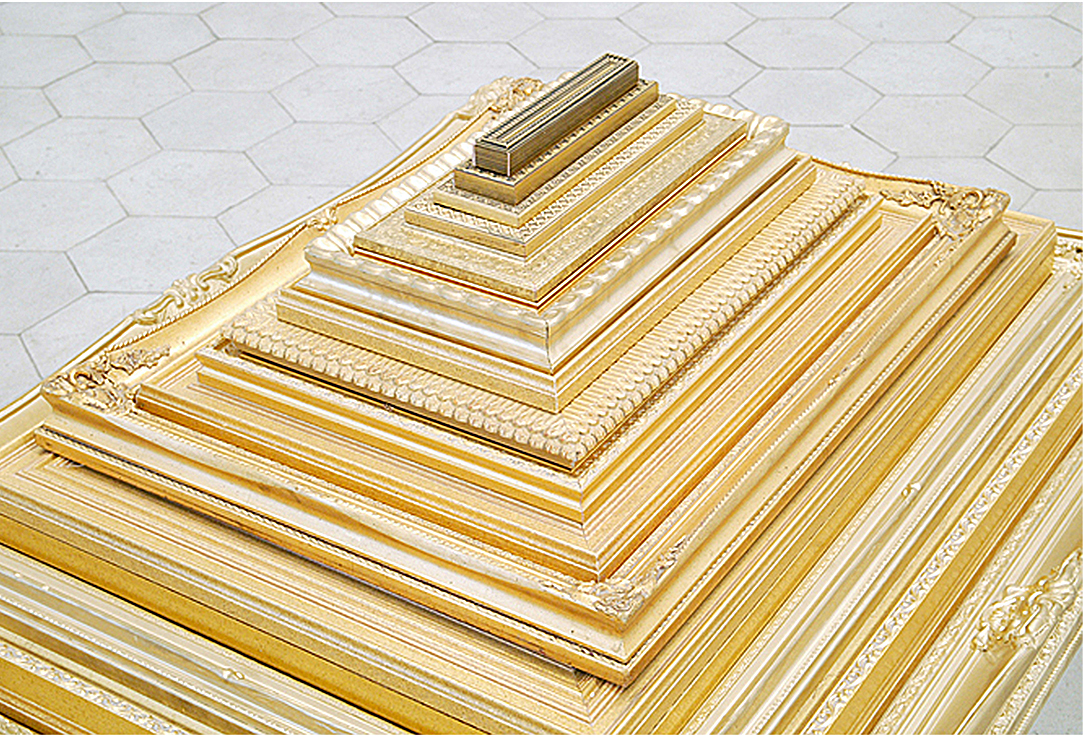 at The Galleries of The American Academy in Rome
Collection Royal Netherlands Institute in Rome

Stack of mainly used golden picture frames, increasingly less baroque.
2010, Rome, Italy
INCRIPTIONS II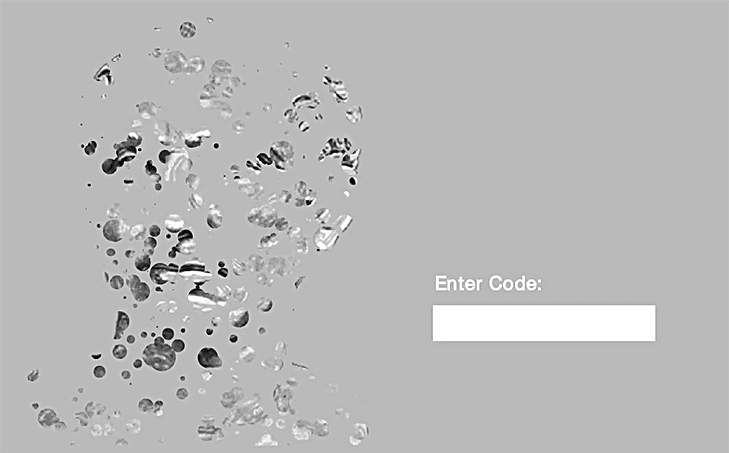 Projection of flash programmed animation at The Galleries of The American Academy in Rome

Test to tell computers and humans apart
Code by Jim de Beer
2010, Rome, Italy
UNTITLED (PILLAR TREES)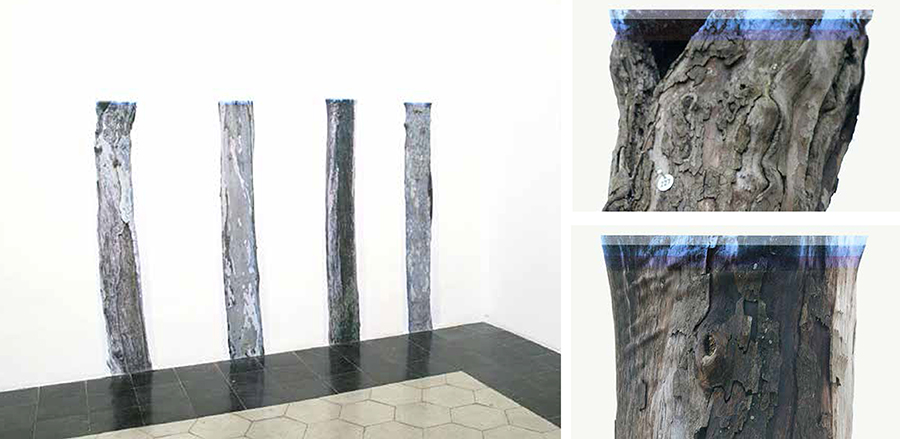 at The Galleries of The American Academy in Rome

Trees or digital representations as the pillars of our civilization. The printer head was stopped during the printing process, suggesting an analogy with growth.

2010, Rome, Italy
PROOF OF MASTERY - STUDY OF HANDS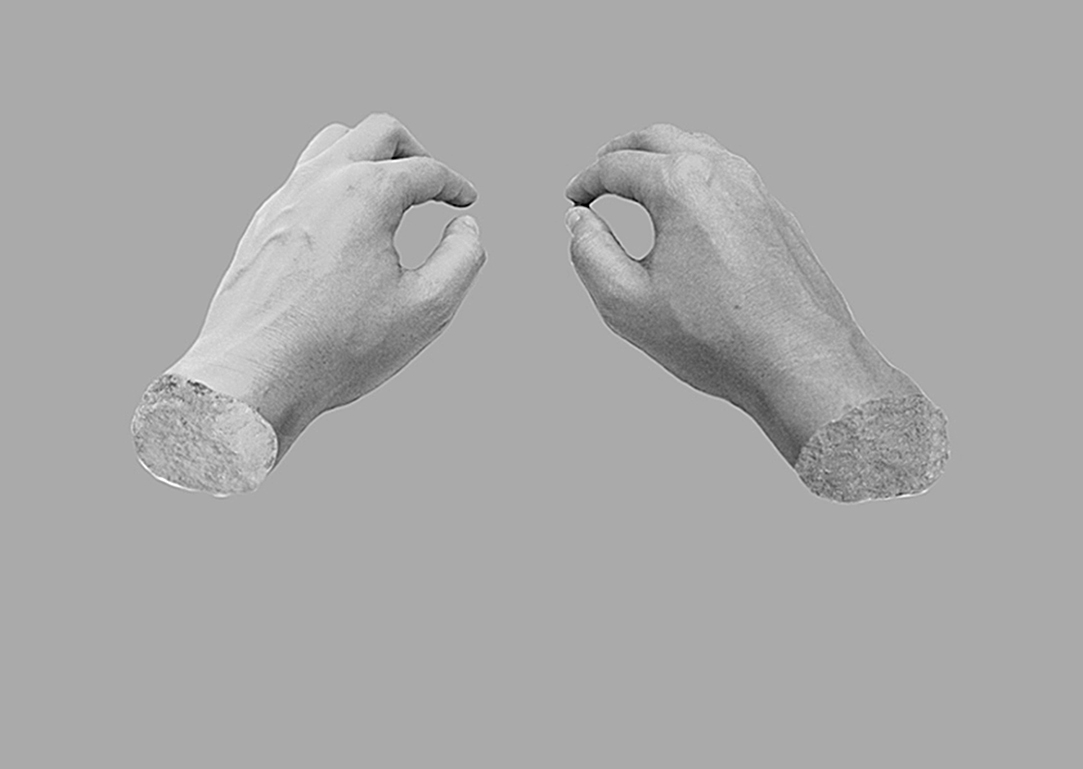 at The American Academy in Rome

Digital photo of my hands as positioned over a computer keyboard
Private collection
2010, Rome, Italy
GRADIENT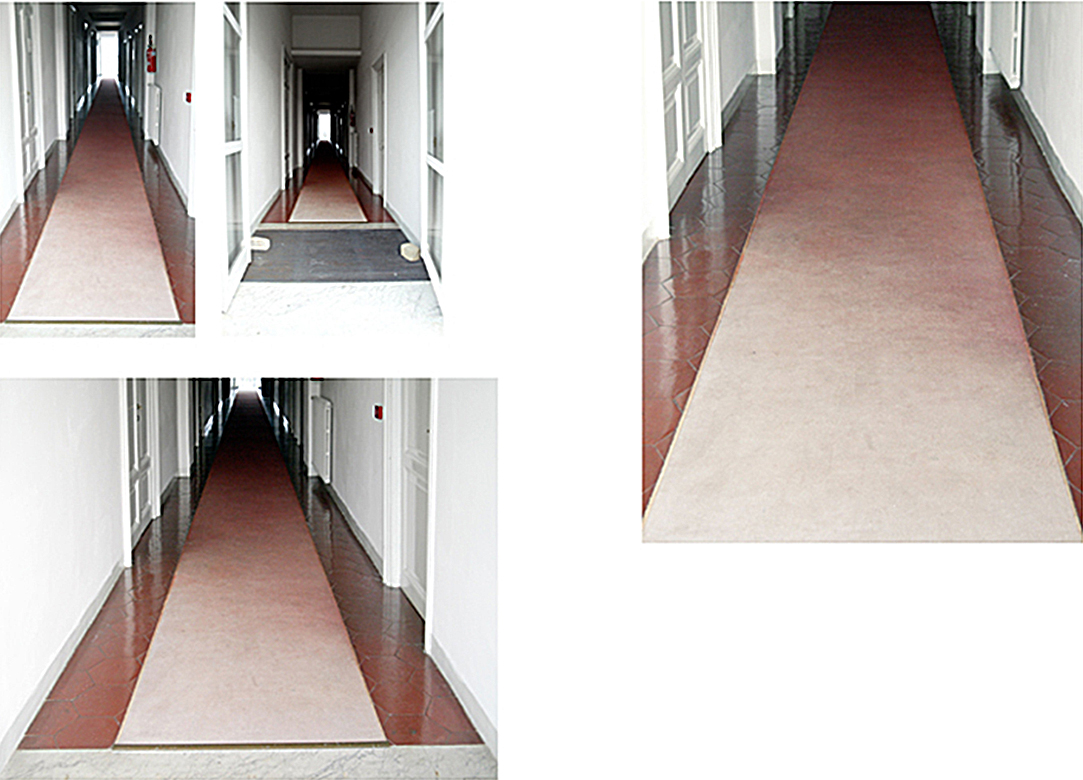 at The American Academy in Rome

Digital photos of a sun-bleached red carpet
2010, Rome, Italy
RENDERING...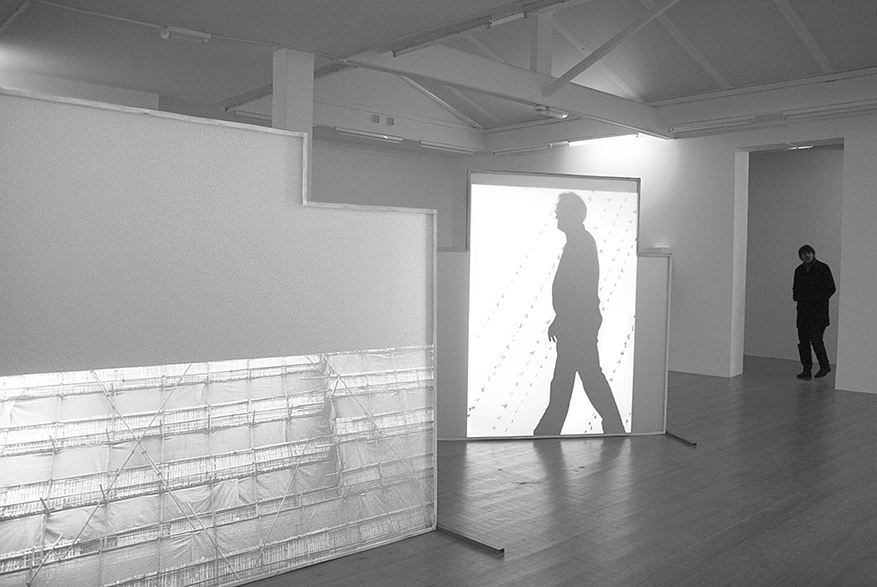 Installation at Stedelijk Museum Bureau Amsterdam, 2006
Installation at MASS MoCA, 2008 to 2009 (up more than a year)

Flash projection - programmed to have random increments and speeds - of buildings under construction on shaped screens. Resembling the faltering image build-up when an internet connection is too slow.
Semi-transparent screens with back projection, sometimes bleached out by sunlight, at SMBA. And view of pallet version at MASS MoCA with frontal projections.
Code by Jim de Beer
Photos for installation made during a residency at CEAC (Chinese European Art Center), Xiamen, China
MEANWHILE...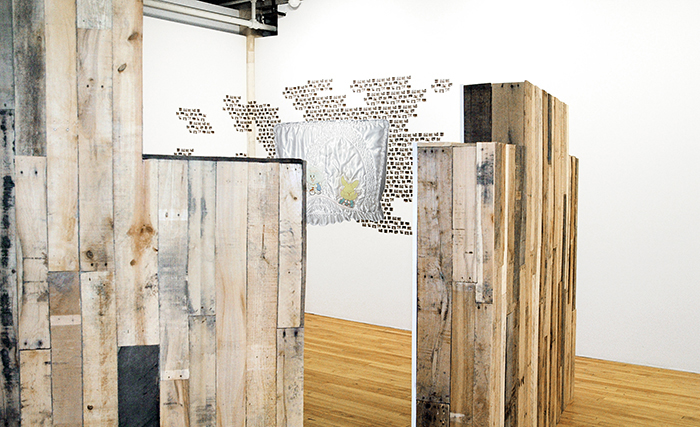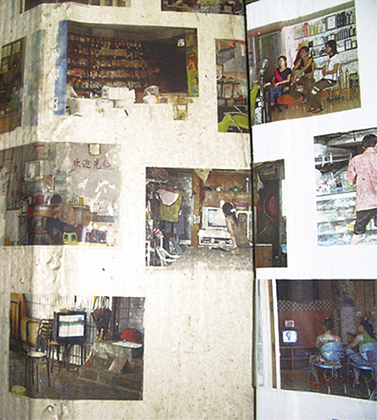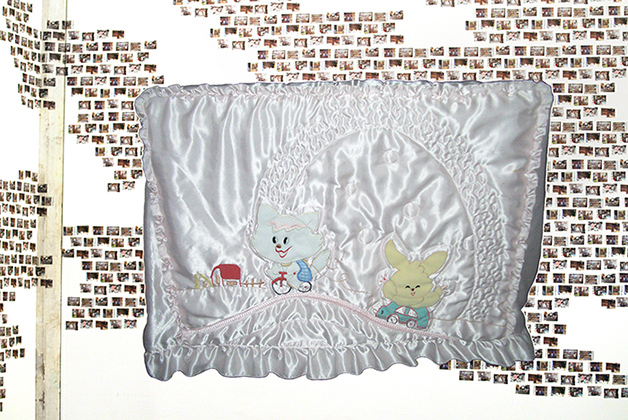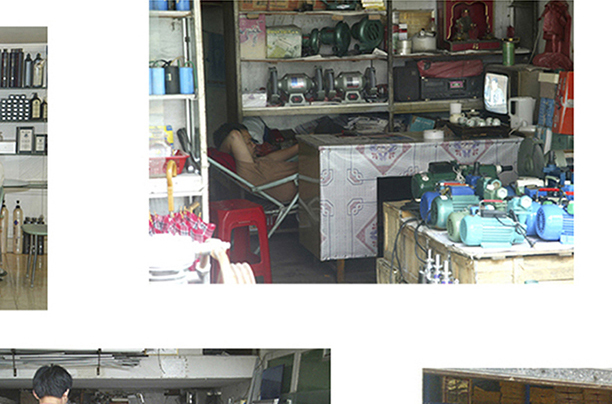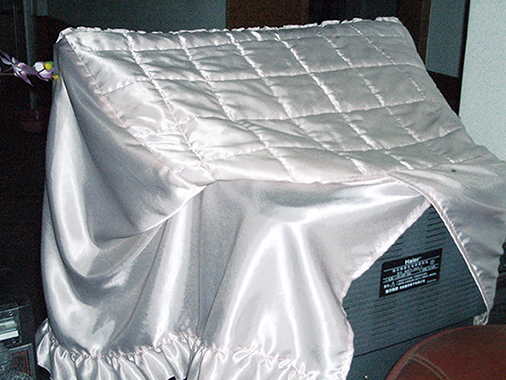 Mural installation at MASS MoCA
Silk screened transfer pics + large scale silk screen print ((158cm x110cm)

Small pictures of people watching TV in their shops / living rooms, amidst all sorts of commodities + large silk screen print of a TV cover which is used in China to hide the TV when it's set to off
On the first picture you see the pallet structures of the screens for 'Rendering...' from the back.

Materials from residency at CEAC, Xiamen, China, 2005
USA, MASS MoCA, 2008 to 2009 (up more than a year)
DAYTIME NEON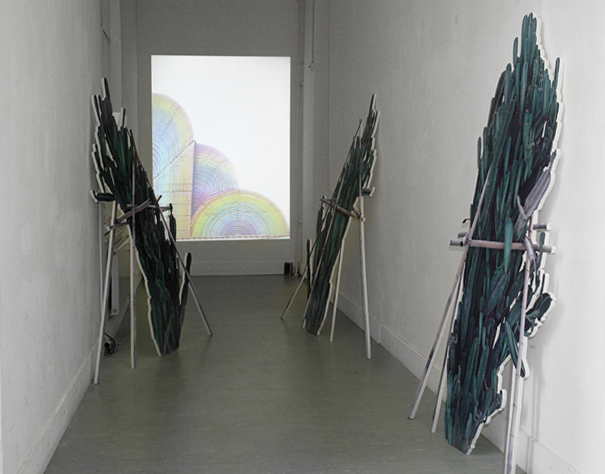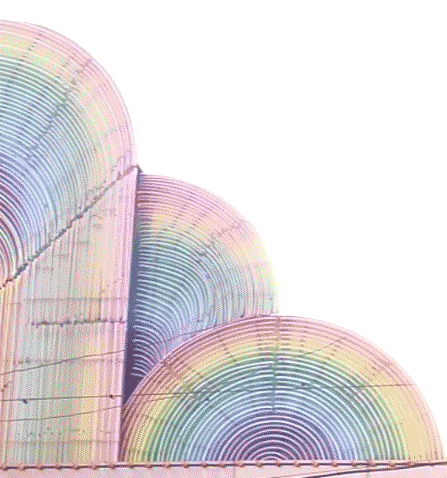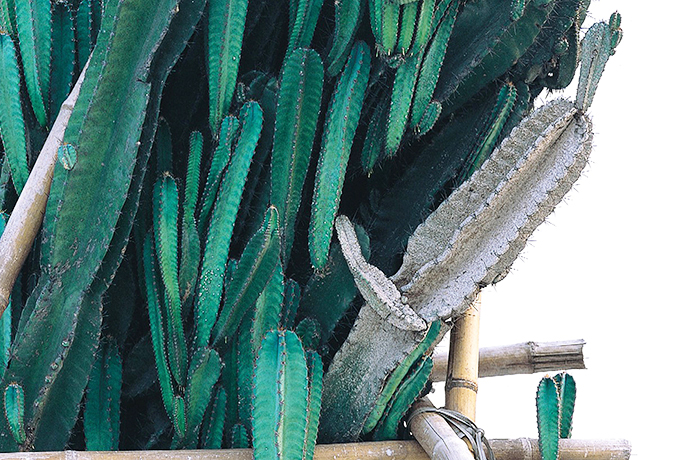 Installation at Museum Het Domein (now Museum De Domijnen), Sittard, NL, 2009
Collection Museum De Domijnen. First shown at Stedelijk Museum Bureau Amsterdam, 2006

Environment with 7 computer-milled cacti on forex (from digitized 4"x5" negative).
Dispersed soundtracks of neon lights as cricket sounds.
Video of neon light in competition with daylight.
CEAC, Xiamen, 2005
NL, 2009
MC LUHAN'S SPELLING MISTAKE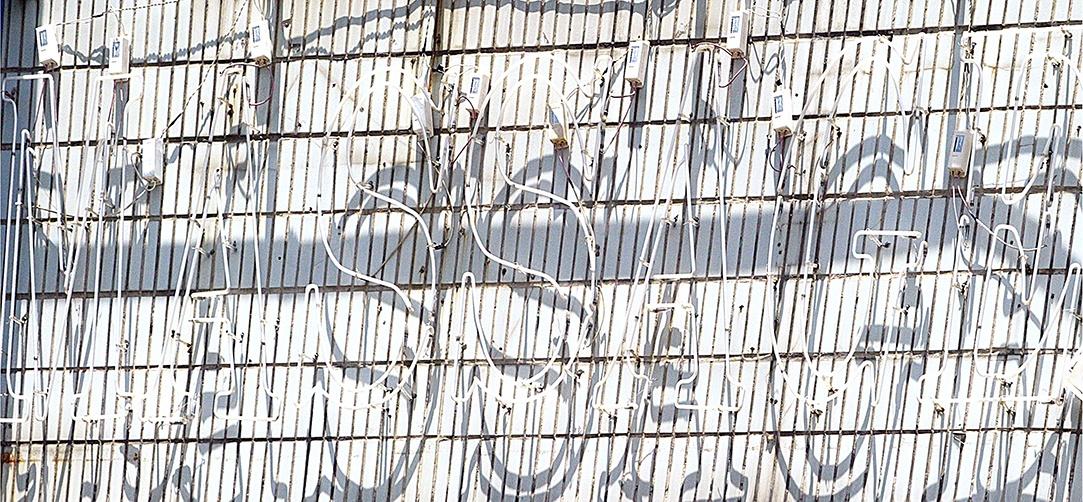 Photoprint, dimensions variable at CEAC, Xiamen China

Digital print - about 100cm wide - of neon lights at daytime, saying 'MASSAGE' (found object / situation).
After a typographical error on the cover of McLuhan's book 1967, which said 'The Medium is the Massage', instead of 'Message'. He left it as is, since it spells 'mass - age' and points to the medium as a mind-numbing 'massage of the sensorium'.
2005, Chinese European Art Center, Xiamen, China
TRANSPARENT CHINESE VASE STARING BACK AT ME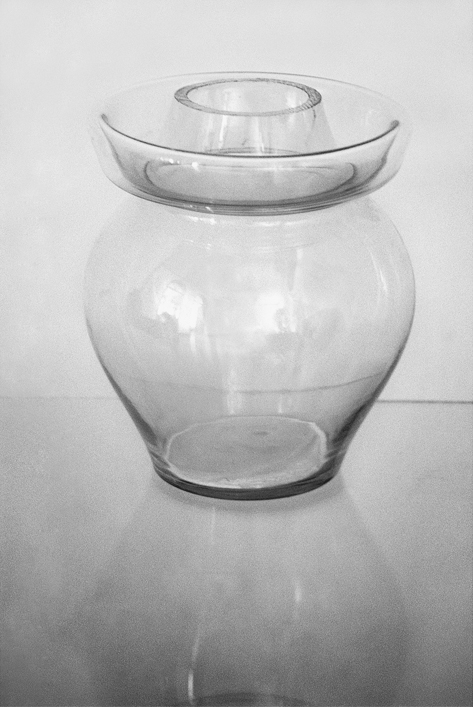 at Stedelijk Museum Bureau Amsterdam, 2006
Scanned analogue photo (naturally resembling a gouache)
Dimensions variable

2005, Chinese European Art Center, Xiamen, China
2006, Shown at Stedelijk Museum Bureau Amsterdam, NL
SILENT EXCESS OF THE ROADWORKER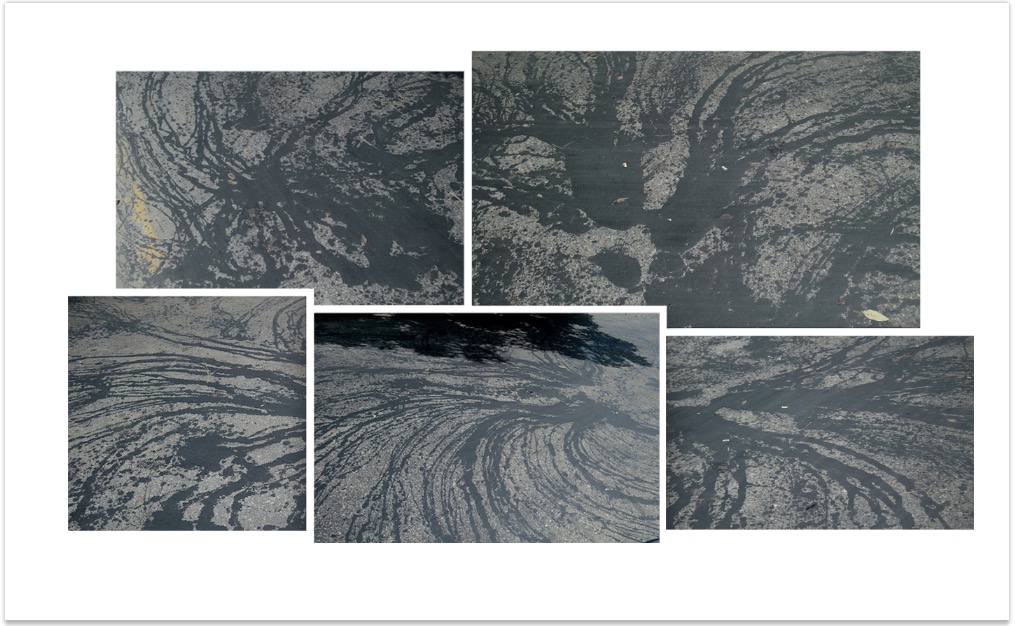 Asphalt resembling expressionist painting

Constellation of photos about 80cm wide / dimensions variable
2005-2006, Chinese European Art Center, Xiamen, China and NL

CAVE WOMAN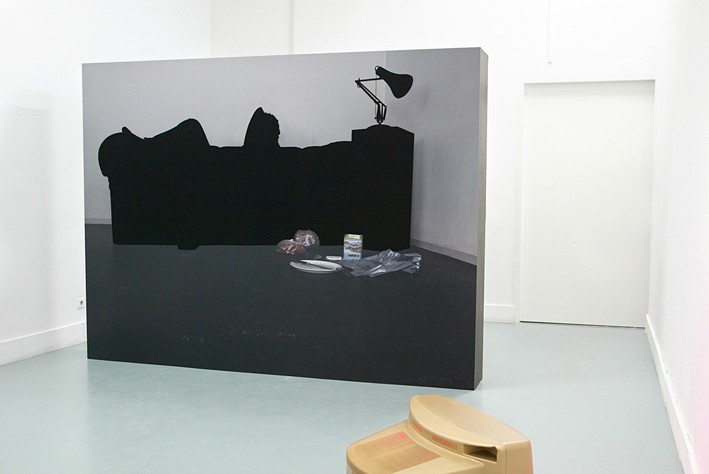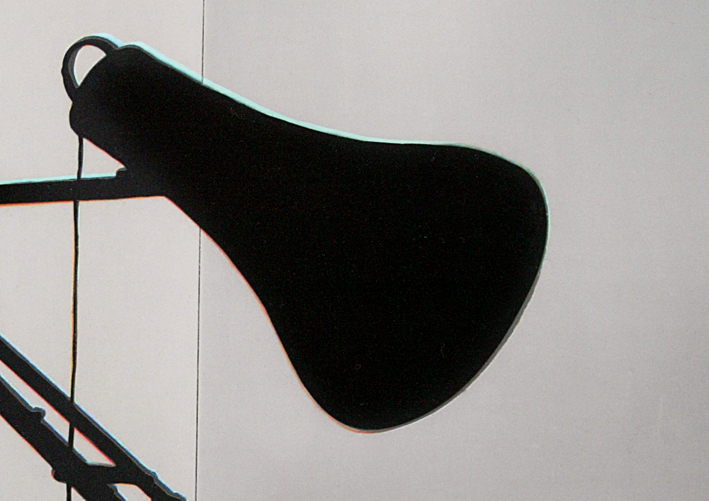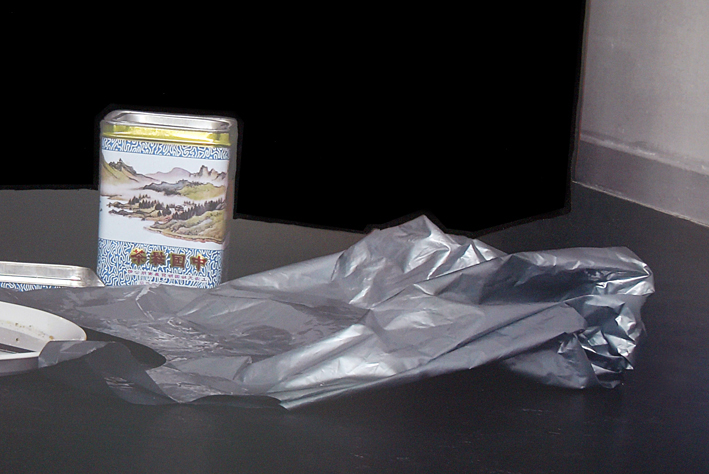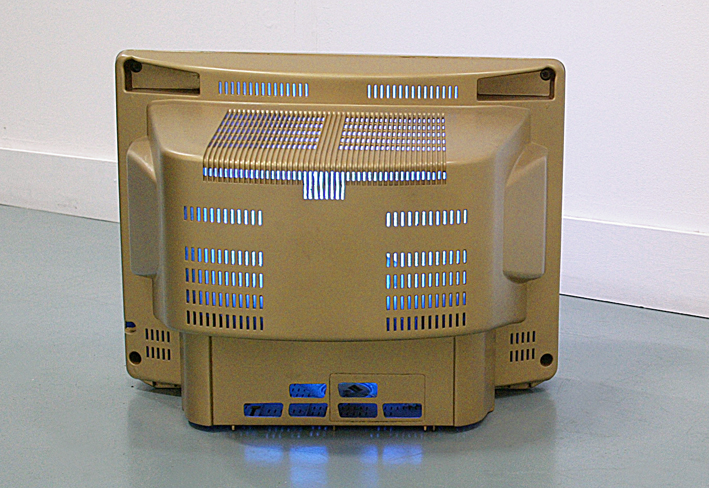 Installation at Museum Het Domein (now Museum De Domijnen), Sittard, NL
Private collection


Digital photo 200cmx266cm (Hasselblad); LAMBDA print with silhouet of matte flock material + wood block. And TV set 75cmx60cmx50cm, gold paint, LED light.
Two forms of inverted TV: Reflection in TV screen, which is switched off. And the backside of a TV set, which looks like a schematic representation of the head of an animal.
Installation
2009, NL
HERE, IN CHINA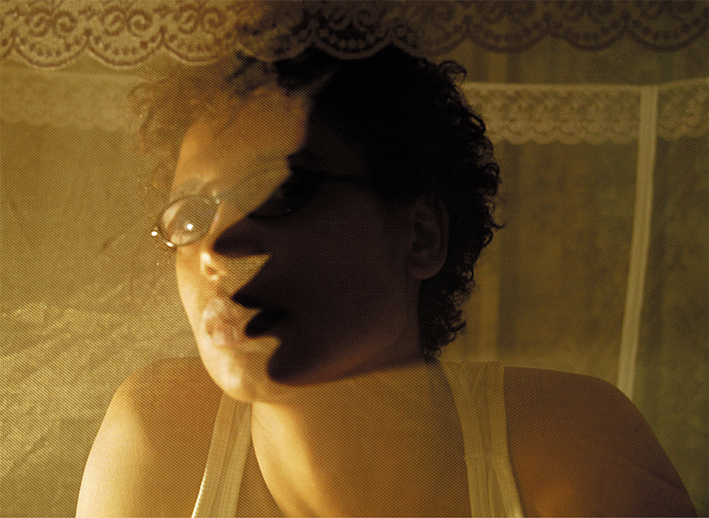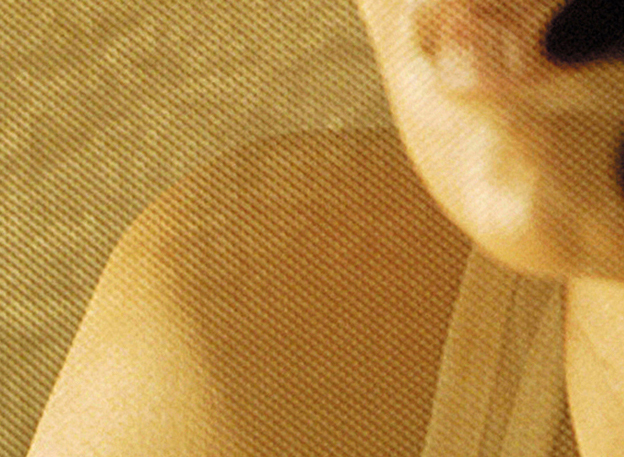 at Stedelijk Museum Bureau Amsterdam, NL
Photoprint, dimensions variable (shown ca 120 cm wide)

Here, far away
Self-portrait. Mosquito tent, resembling a printing grid
CEAC, Xiamen
China, 2005








LINKS